Good morning. It's Monday, Oct. 2.
Emily's List leader is named to Dianne Feinstein's seat.
Kevin McCarthy faces major test of his leadership.
And a look back at Sacramento's lost Japantown.
Please note: An email went out to a bunch of people over the weekend warning that your subscription was expiring. It was sent in error. Please disregard.
---
Statewide
1.
Three days after the death of Dianne Feinstein, Gov. Gavin Newsom announced Sunday that he had chosen Laphonza Butler to fill her seat in the Senate, keeping his pledge to appoint a Black woman to the role. Butler, 44, has been a fixture in California politics for more than a decade, serving as a labor leader, Democratic strategist, and adviser to Kamala Harris' 2020 presidential campaign. She'll be the only Black woman in the chamber and the first openly gay senator from California. L.A. Times | N.Y. Times
Feinstein's body was transported on Saturday to San Francisco, where it will lie in state this week at City Hall. SF Standard
---
2.
"If somebody wants to remove [me] because I want to be the adult in the room, go ahead and try."
That was Speaker Kevin McCarthy on Saturday after he partnered with Democrats to fund the government and avert a looming shutdown, angering Republican hard-liners. His critics, namely Rep. Matt Gaetz, plan to do exactly that. The Florida Republican said Sunday that he would use a procedural tool to strip McCarthy of his office as soon as this week. "I think we need to rip off the Band-Aid," Gaetz said. N.Y. Times | Washington Post
---
3.
California's Republican Party reaffirmed its opposition to same-sex marriage during the group's fall convention in Anaheim on Saturday, shutting down a proposal to remove language from its platform that defines marriage as "between one man and one woman." After the vote, which also reasserted opposition to abortion, delegates broke out in cheers and traded high-fives. "They refuse to let us be competitive," complained Charles Moran, chair of the Log Cabin Republicans. Politico
---
4.
Gov. Gavin Newsom on Saturday vetoed a bill that would have allowed workers to collect unemployment checks while on strike. The Democrat said he couldn't support the measure, which was inspired by labor unrest over the summer, because the fund the state uses to pay unemployment will be nearly $20 billion in debt by the end of the year. "Now is not the time to increase costs or incur this sizable debt," he wrote. CalMatters | A.P.
---
5.
Call it the last gasp of summer. After a chilly and wet weekend, forecasters said temperatures would rise this week across California, peaking between Wednesday and Saturday with highs that could surpass 80 degrees near the coast, including San Francisco and San Diego, and 90 degrees inland, including the Central Valley and Southern California deserts. S.F. Chronicle | Accuweather
Sample forecasts from the National Weather Service:
---
Northern California
6.
Jonah Roper, a 35-year-old accused of fatally stabbing his mother in the Berkeley Hills last month, had been in and out of jail and psychiatric facilities since his adolescence, according to court records. His family, the documents showed, tried to compel him into treatment for bipolar disorder. The revelations surfaced as Gov. Gavin Newsom's controversial CARE Court is poised to kick off this week in seven California counties. It's designed to fast-track people with untreated psychotic disorders into housing and medical care — by force if necessary. S.F. Chronicle | A.P.
---
7.
It's not just outsiders bad-mouthing San Francisco and other parts of the Bay Area. A new poll of local residents found that at least seven out of 10 said they avoided the downtowns of Oakland, San Jose, and San Francisco. Crime and too many homeless people were among the top reasons cited. "I was held at gunpoint in broad daylight," one respondent said of Oakland. "Either your car will be broken into or stolen or you will be accosted by homeless people," another said of San Francisco. Mercury News
---
8.
Charles Johnathen Harris' life was spiraling out of control last March. The 42-year-old East Bay firefighter had been accused of having child pornography on his iPhone and he faced the risk of prison, fines, and the loss of his job. Then, a couple weeks before his court date, Harris drowned in a boating accident, according to his lawyer and family. His body was never recovered. The authorities have serious doubts. Mercury News
---
9.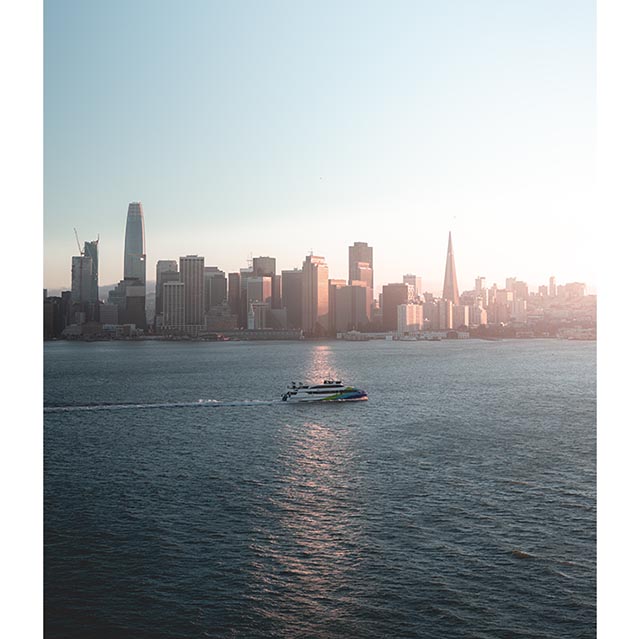 A survey of San Francisco Bay ferry passengers last year found that an almost-unheard-of 99% were pleased with the service. The ferry ride between Alameda and San Francisco is cheap ($4.60), pretty much always on time, and gloriously scenic. Cultural critic Peter Hartlaub said he's been singing its praises to anyone who will listen for years. "There's often a point during my San Francisco Bay Ferry commute when I fantasize about never getting off the boat," he wrote. S.F. Chronicle
---
Southern California
10.
Invasive deer are ravaging native plants and grasses on Catalina Island. So the Catalina Island Conservancy, which manages 90% of the island, is planning to deploy helicopter-mounted sharpshooters to mow down nearly 2,000 of the deer from the sky. Animal lovers have thoughts: "We are completely against the slaughter of innocent mule deer on Catalina Island," said Dianne Stone, of the Catalina Island Humane Society. "The Conservancy's solution is violent and ugly." L.A. Times
---
11.
There has never been anything like the Angels' Shohei Ohtani, a master of both pitching and hitting. This year he has been at or near the top of numerous pitching metrics: sixth in earned-run average, fifth in strikeouts, third in generating weak contact. At the plate, he led the league in home runs and slugging percentage. Bruce Schoenfeld, who has written about baseball for more than 30 years, said it was "perhaps the most remarkable season by an individual in baseball history." N.Y. Times Magazine
In Ohtani's six seasons with the Angels, the team hasn't even managed a winning record. With his contract expiring, speculation over his plans is intense. L.A. Times
---
California archive
12.
Sacramento once had one of the nation's most vibrant Japantowns.
It was born in the latter half of the 19th century, as migrants from Asia responded to California's need for farm and railroad labor and later formed communities in depressed inner-city areas.
The Japanese diaspora opened shops that sold jewelry, fresh fish, 10-cent milkshakes, and other wares in a six-block area near the State Capitol. Colorful lanterns lit the street, where kids played hide-and-seek and musicians plucked the three-stringed shamisen late into the night. There were tea ceremonies, traditional dances, and sumo matches.
Then, on Dec. 7, 1941, the Japanese bombed Pearl Harbor. Sensing the precariousness of the moment, Sacramento's Japanese residents made ostentatious displays of devotion to the United States. They hung patriotic banners, delivered a statement of loyalty to Sacramento's city manager, and bought an ad in the newspaper: "Yes, we are Americans," it began.
It wasn't enough. About two months after the attack, President Franklin D. Roosevelt ordered the incarceration of all people of Japanese ancestry. By mid-May, Sacramento's Japantown was deserted.
With the former residents behind barbed wire, the Sacramento City Council passed a resolution in 1943 opposing their return, citing "the treachery, faithlessness and untrustworthiness of the pagan Japanese."
They returned anyway. Released after nearly three years of incarceration, the former residents got back to work, reinventing Japantown, now within a more ethnically diverse community of Portuguese, Mexican, Chinese, Korean, and African American residents. By the early 1950s, most of the professionals in the neighborhood were Japanese, including five dentists, four physicians, and three lawyers. A Japanese bowling league had 128 members. The festivals and sumo matches resumed.
But just as the neighborhood found its footing again, a new threat emerged. In 1954, city leaders who viewed Japantown as a blight on the downtown announced an urban renewal plan that they said would establish a modern gateway to the Capitol. It meant the total destruction of Japantown.
During City Council hearings, merchants and residents made impassioned appeals to the humanity of the city.
"We will not be able to withstand another evacuation," testified Giichi Aoki, a music shop owner.
"What other people have had to take so much as the Japanese?" asked I. Sugiyama, a longtime resident.
The protests fell on deaf ears. In 1959, Gov. Edmund G. Brown Sr. pushed a shovel into the ground during the ceremonial groundbreaking. Once again, business owners had to liquidate their merchandise as they prepared to move. Within a decade, 15 square blocks were leveled, wiping Japantown off the map and scattering its former residents.
In its place rose office towers, a condo complex, and multiple bureaucratic buildings. Today, the only remaining Japantown structure, the old Nisei veterans post, stands as a poignant reminder of how disgraceful the anti-Japanese movement was. Now wedged between a parking garage and offices for the California Department of Tax and Fee Administration, it served as safe haven for Japanese-American soldiers who were excluded from veterans organizations after fighting for their country in World War II.
● ●
See a fascinating collection of photos from Sacramento's lost Japantown. 👉 Google Arts & Culture
---
Get your California Sun T-shirts, phone cases, hoodies, mugs, and hats!

---
Thanks for reading!
The California Sun is written by Mike McPhate, a former California correspondent for the New York Times.
Make a one-time contribution to the California Sun.
Give a subscription as a gift.
Get a California Sun mug, T-shirt, phone case, hat, or hoodie.
Forward this email to a friend.
Click here to stop delivery, and here to update your billing information. To change your email address please email me: mike@californiasun.co. (Note: Unsubscribing here does not cancel payments. To do that click here.)

The California Sun, PO Box 6868, Los Osos, CA 93412
Subscribe
Wake up to must-read news from around the Golden State delivered to your inbox each morning.