Good morning. It's Thursday, Oct. 5.
Kern County residents lash out at "little man" Matt Gaetz.
Airbnb "tenant from hell" refuses to leave L.A. home.
And Los Olivos is best small town for food and culture.
---
Statewide
1.
After Kevin McCarthy's ouster from the House speakership, voters in his Kern County district directed their rage squarely at Rep. Matt Gaetz, the instigator of the rebellion. Annette Londquist, the head of Bakersfield Republican Women, called him "a narcissistic, evil and vengeful little man." Clayton Campbell, vice chair of the Kern County Republican Party, accused the Florida Republican of harboring delusions of grandeur. "He is important in the way that a faulty bolt on a jetliner is important," he said. L.A. Times
With McCarthy out, California's beleaguered Republicans have lost another lifeline, Politico reported.
---
2.
Here are a few of the latest actions by Gov. Gavin Newsom on a pile of legislation awaiting his signature before an Oct. 14 deadline.
He signed measures that will:
He vetoed a bill that would have provided workplace safety protections for housekeepers and nannies, a change that he said was unworkable for private households.
---
3.
Arnold Schwarzenegger is promoting his new self-help book "Be Useful: Seven Tools for Life." Here's a few quotes from a Q&A in the New York Times Magazine👇
On the utility of selfishness: "The more powerful you are, the more power you have in giving back."
On "wokeism" in Hollywood: "Let's not fool ourselves. They talk about the environment and all that stuff, look at which studio has solar panels on top of the rooftops. None of them."
On the conspiracist Robert F. Kennedy Jr., a cousin of his former wife: "I can see why someone like him is the way he is."
---
4.
Los Olivos was named America's best small town for food and culture in a travel magazine ranking that relied on polling of a "network of experts." Nestled in the bucolic Santa Ynez Valley, Los Olivos is only 2.5 square miles but has 27 wineries. The main drag is lined with open-air tasting rooms, galleries, and Victorian architecture. Fall, when the weather is warm during the day and crisp in the evening, is the best time to visit. Travel + Leisure
---
Northern California
5.
Last week, Mayor London Breed of San Francisco announced a bill to deny welfare benefits to anyone "suffering from substance-use disorder" who was not enrolled in treatment. The plan got a "bravo" tweet from Elon Musk. But the columnist Jay Caspian Kang warned that Breed is playing a cynical game: "Maybe all of this will teach Breed the lesson that she should have learned when she cheered on the recall of Chesa Boudin: if the problems — homelessness, crime — stay the same once you've disposed of your political enemies, the next backlash is coming straight for you." New Yorker
---
6.
Scores of everyday San Franciscans and political leaders alike paid their final respects to Dianne Feinstein as her body lay in state in San Francisco City Hall on Wednesday. Among the mourners were former Mayor Willie Brown, Rep. Nancy Pelosi, and Dr. Anthony Fauci. San Francisco native Cari Donovan placed a bouquet of flowers before the casket and cried quietly for a woman she never knew but deeply admired. She said she told her 28-year-old daughter about the battles Feinstein fought so young women could dream bigger. "She was a lioness," Donovan said. A.P. | Washington Post
---
7.
On Sept. 20 and 25, multiple schools across Davis received bomb threats, forcing campuses to close until the authorities gave the all-clear. On Sept. 27, Fresno State University and one of its professors received bomb threats, prompting campuswide evacuations. The scares, it turns out, were part of a broader pattern. A reporter reached out to every school or district that had been mentioned in September by Libs of TikTok, a social media account that ridicules liberals and LGBT causes. Eleven, including those in Davis and Fresno, faced bomb threats. Vice
---
8.
Fourteen members of Capital Public Radio's board of directors resigned en masse Wednesday night, a week after a blistering audit found widespread financial mismanagement at the publicly supported NPR station. Sacramento State, which holds the license for CapRadio, projected that the operation would be insolvent by January. In a brief resignation letter, the exiting board members accused Sac State of failing to engage in good faith. "These resignations are accepted," President Luke Wood wrote in response. KCRA | CBS News Sacramento
---

Give something they'll open every day.
Give the gift of the California Sun.
---
9.
The Cuban-born street photographer Carlotta Boettcher was drawn to San Francisco for adventure in 1971. A global hub for artists, bohemians, and gays in search of personal freedom, it was a street photographer's dream, she said. "People exhibited who they were publicly without fear or censorship." Boettcher's black-and-white photos pulse with the color and vitality of the period. See two collections. 👉 CarlottaBoettcherPhotography.com | tumblr
---
Southern California
10.
"Sascha Jovanovic should be living the good life in his private estate perched in the hills of Brentwood, enjoying the spoils of a successful career in periodontics. But instead, he says he's scared to walk to his car because there's a woman who won't leave his guesthouse."
Reporter Jack Flemming told the hair-raising story of an Airbnb "tenant from hell" and the convoluted city codes that have prevented her eviction. L.A. Times
---
11.
Los Angeles is housing more people than ever, yet it can't keep pace with the rising number of people who end up homeless. Every day, on average, roughly 207 Angelenos exit homelessness, while 227 others fall into it. The city is now testing a new approach, powered by artificial intelligence, that aims to identify people who are most likely to land on the streets and intervene before that happens. The program helped usher Dulce Volantin into a subsidized apartment. Asked what it meant to her, she choked up. "The world, the world," she said. NPR
---
12.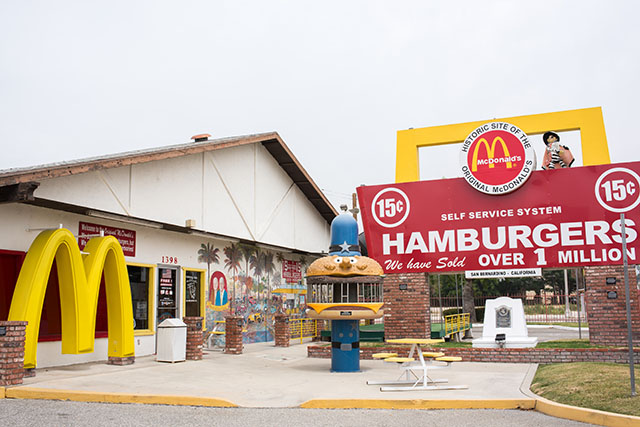 According to the official corporate history, the first McDonald's opened in Des Plaines, Illinois, in 1955. But the midwest location is merely where Ray Kroc, the hard-charging milkshake salesman who joined the chain 14 years after its founding, opened the first McDonald's franchise. The true first location was opened by the McDonald brothers at 14th and North E streets in San Bernardino in 1940. And that's where a quirky museum now pays tribute the burger empire. McDonald's did not take kindly to the unauthorized operation, deploying its trademark attorneys to stop it from using the name "McDonald's Museum." The museum abided but doubled down on San Bernardino's rightful place in fast food history. Its name now: "The historic site of the original McDonald's." Roadside America | Atlas Obscura
---
Thanks for reading!
The California Sun is written by Mike McPhate, a former California correspondent for the New York Times.
Make a one-time contribution to the California Sun.
Give a subscription as a gift.
Get a California Sun mug, T-shirt, phone case, hat, or hoodie.
Forward this email to a friend.
Click here to stop delivery, and here to update your billing information. To change your email address please email me: mike@californiasun.co. (Note: Unsubscribing here does not cancel payments. To do that click here.)

The California Sun, PO Box 6868, Los Osos, CA 93412
Subscribe
Wake up to must-read news from around the Golden State delivered to your inbox each morning.