Good morning. It's Thursday, Jan. 5.
Powerful winds send trees toppling across state.
Another day of defeats in the House for Kevin McCarthy.
And a timeless perspective on hope from John Steinbeck.
---
California storm
1.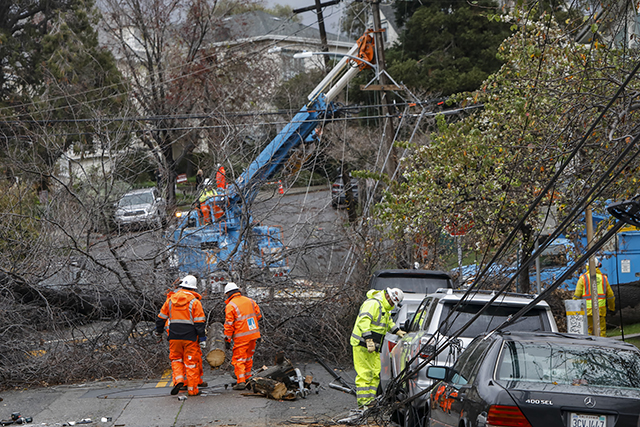 "There are trees coming down constantly right now."
Ferocious winds and rain driven by an offshore bomb cyclone pummeled California on Wednesday, inundating city streets, forcing new evacuations, and leaving more than 200,000 customers without electricity. State officials had predicted that the toppling of drought-stressed trees would be "the signature of this particular event." That proved true: By midday downed trees were seemingly everywhere. They blocked buses in San Francisco, crashed into power lines in Cotati, and closed Highway 101 in Humboldt County. In Sonoma County, fire officials said a toddler was killed by a tree that fell into a home, one of at least two deaths attributed to the storm Wednesday. SFGATE | Press Democrat | Accuweather
---
2.
A roundup of other storm impacts:
---
3.
The midweek storm is the third in a parade of atmospheric rivers raking California since last Friday — and more are yet to come. Forecasters said two more atmospheric river storms were poised to arrive Saturday and Monday in Northern California, with still more possible in subsequent weeks. Marty Ralph, a research meteorologist at UC San Diego, offered a remarkable prediction: "If these storms continue to come onshore for the next two or three weeks, that will end the drought." Mercury News
---
Statewide
4.
Rep. Kevin McCarthy lost another three votes for House speaker on Wednesday in a replay of the three defeats he suffered the day before. The Bakersfield Republican vowed to fight to the finish, but there was little sign the stalemate could be broken. Even an entreaty from former President Trump to unite around McCarthy fell flat. If anything, McCarthy's detractors seemed emboldened. "This is actually an invigorating day for America," said Rep. Byron Donalds. N.Y. Times | A.P.
There are zero members of the House of Representatives right now as incoming members cannot be sworn in until a speaker is chosen. The Washington Post: "But if there are no actual members, who is in charge on this side of the Capitol? Pence pointed to the ceiling and said, 'God.' (God could not be reached for comment.)"
---
5.
California's new Legislature looks more like the state than ever before. Women now occupy 50 out of 120 seats, or 42%, a record high. At least 10% of state lawmakers identify publicly as LGBTQ, believed to be a first for any U.S. legislature. Here's an eye-opening tool that lets you look up how many lawmakers share your demographic traits. CalMatters
---
6.
The sterilization of mentally ill patients was once common in the U.S., and no state used the practice as much as California. In 2021, the state established a $4.5 million reparations program for living victims of the so-called eugenics movement and another group who were victimized in women's prisons about a decade ago. But after a year of searching, just 51 of an estimated 600 eligible people have been approved for payments — and time is limited before the program expires. A.P.
---
7.
Upon the start of the new year in 1941, as World War II was raging, John Steinbeck penned a letter to his friend Pascal Covici offering grounds for faith in humanity. "We go into this happy new year, knowing that our species has learned nothing," the son of Salinas began. But he hadn't lost hope, he wrote: "All the goodness and the heroisms will rise up again, then be cut down again and rise up. It isn't that the evil thing wins — it never will — but that it doesn't die." The Marginalian
---
Northern California
8.
Salesforce, San Francisco's largest private employer and namesake of its tallest building, said on Wednesday that it would lay off about 10% of its workforce, or roughly 8,000 employees. The retrenchment by the business software giant is among the largest in a succession of layoffs at tech companies, including Meta, Twitter, Amazon, Cisco, and Stripe. It is also another blow to San Francisco's struggling downtown, where office vacancies have soared. S.F. Chronicle | Wall Street Journal
---
9.
Mare Island, a former naval shipyard in San Pablo Bay, is part ghost town, bird sanctuary, and aspiring food and beverage destination. An hour away by ferry from San Francisco, the island (in reality a peninsula) was abandoned by the military in 1996. On a daylong adventure, the travel writer Jeff Greenwald found a 121-year-old chapel with brilliant stained-glass windows, street lamp-lined roads leading nowhere, and a neighborhood that looked like a scale railroad model of a little town. SF Standard
Below, views of Mare Island.
---
Southern California
10.
Rick Singer, the mastermind of the college admissions bribery scheme, was sentenced on Wednesday to three and a half years in prison, the longest sentence to be handed down in the sprawling scandal. He will also have to pay nearly $20 million in restitution and forfeitures. The punishment was portrayed as the closing chapter of a lengthy drama that ensnared dozens of wealthy parents and exposed the ease with which the college-admissions process could be corrupted. Wall Street Journal | N.Y. Times
---
11.
In 2017, Russia banned Jehovah's Witnesses from practicing their religion, calling them extremists and sentencing many to years in prison. That's how two families of the faith ended up in San Diego last year after fleeing prosecution in Russia and crossing the San Diego-Tijuana border. They are waiting now to find out whether the U.S. will allow them to stay. S.D. Union-Tribune
---
12.
In 1998, a sculpture by the British artist William Tucker was installed in front of Scripps Green Hospital in La Jolla. Commissioned for $200,000, the 13-foot bronze work "Okeanos," named for the Greek god of the sea, was meant to resemble an ocean wave. It was heralded in the pages of the New York Times: "'Okeanos' captures our attention through its physical presence and holds it by mirroring currents and impulses within our bodies," wrote art critic Michael Brenson. La Jollans also perceived a sort of bodily impulse in the sculpture. They dubbed it the "Scripps turd." A few years later, a local philanthropist offered $40,000 to essentially hide it away on a nearby street corner, where it remains to this day. Pranksters are said to have left toilet paper next to it. La Jolla Light
---
☀️ Brighten someone's everyday.
Give the gift of the California Sun.
---
Thanks for reading!
The California Sun is written by Mike McPhate, a former California correspondent for the New York Times.
Give the gift of the California Sun.
Get a California Sun mug, T-shirt, phone case, or hoodie.
Forward this email to a friend.
Click here to stop delivery, and here to update your billing information or cancel your support.

The California Sun, PO Box 6868, Los Osos, CA 93412
Subscribe
Wake up to must-read news from around the Golden State delivered to your inbox each morning.