Good morning. It's Tuesday, Feb. 28.
Plunging weed prices push Emerald Triangle to the brink.
Bay Area landlord on hunger strike over eviction ban.
And wine country's mustard fields get a jump on spring.
---
California storms
1.
As California takes another pounding of wind and snow through midweek, several meteorologists said Monday that their models were pointing to continued storms over the next few weeks, possibly including atmospheric rivers. "When you look at everything, there is a suggestion that we could have a wet pattern into March," said Dr. John P. Monteverdi, an emeritus professor of meteorology at San Francisco State University. "It does look like that will happen." The Reporter
---
2.
Other weather developments:
With residents and travelers trapped in the San Bernardino Mountains, officials declared a local emergency Monday to get help clearing the roads. San Bernardino Sun | L.A. Times
The Sierra Nevada snowpack is now 181% of normal as of Monday. By the end of the season, said climate scientist Daniel Swain, "it's very possible we'll end up vying for one of the top two snow years on record in parts of the state." L.A. Times | S.F. Chronicle
A whirling column of air and water mist, known as a waterspout, formed Monday along the Lost Coast. A local, Micah Crumbaugh, caught amazing video while out on a walk. Lost Coast Outpost | Redheaded Blackbelt
---
Statewide
3.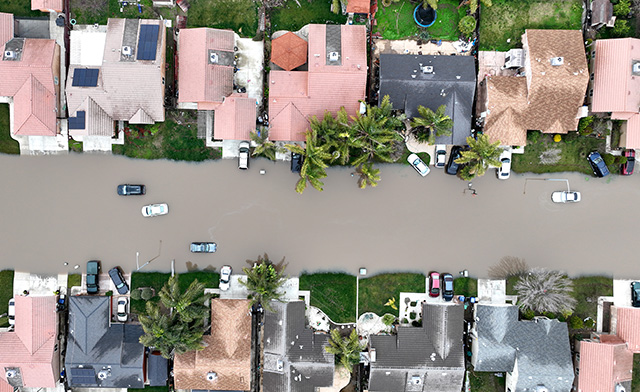 Cecilia Birrueta and her husband bought their little white house in the flatlands just west of Yosemite 13 years ago, their reward after decades of cleaning houses, milking cows, and harvesting pistachios. Now it may need to be demolished. "We bought a place of our own that we thought would be safe for our kids, and then we lost it," Birrueta said. "We lost everything." The New York Times gave a heartbreaking account of loss in Planada, one of the town's hardest hit by January's floods.
---
4.
Gov. Gavin Newsom's administration is battling Huntington Beach over its defiance of state housing mandates. In a tweet criticizing the Republican stronghold last week, Newsom struck a partisan tone: "This is a pathetic pattern by politicians more focused on taking down pride flags than on real solutions." The columnist Dan Walters wondered why some wealthy Democratic enclaves seem to be getting a pass. Montecito, the Central Coast home of Oprah and British royals, has zero plans for new housing under the state mandate. CalMatters
---
5.
"This is impossible."
At the Vietnamese restaurant Pho 87 in Los Angeles' Chinatown, the November gas bill was $800. For January, it was $8,000. Another restaurant a few blocks away, Hop Woo, got a recent bill for more than $13,600. California's skyrocketing gas prices have been so brutal for restaurants that use gas cooking methods that some have considered temporarily closing. L.A. Times
---
Northern California
6.
As cannabis prices plummet, people in California's cannabis heartland are struggling. Some cultivators are shutting down. Workers are seeking new careers. Lines are growing at food banks. On a trip through the Emerald Triangle — Mendocino, Humboldt, and Trinity counties — reporter Alexei Koseff found an atmosphere of despair: "People whisper about friends who are thinking about divorce or who killed themselves because they could not handle the financial devastation." CalMatters
---
7.
An Alameda County landlord began a hunger strike Sunday over the county's eviction moratorium, still in effect after being imposed in 2020 in response to the Covid pandemic. Jinyu Wu, an immigrant from China, said a tenant at his rental property in San Leandro hasn't paid any rent for three years. He's owed $120,000, he said. Wu and his wife "worked night and day for our new life and our American dream," he wrote in a letter to the Board of Supervisors. "Today, our property has been stolen from us by you." SF Standard
---
8.
In San Francisco, janitors and nurses endure 90-minute commutes, young children have become rare sights, and the police force cannot fill its ranks. In an opinion column, Michael Moritz, a partner at Sequoia Capital, tied San Francisco's dysfunction to "the tyranny of the minority":
"While there have been just 16 amendments to the U.S. Constitution since 1800, there have been 106 changes to San Francisco's City Charter since 1996. If the U.S. Constitution requires decades and a chisel and hammer to change, San Francisco's City Charter is like a live Google doc controlled by manipulative copy editors." N.Y. Times
---
9.
In California's wine country, the mustard fields get an early start on spring. Legend has it that Spanish priests scattered mustard seeds as they established a chain of missions along the California coast, creating a "ribbon of gold" to mark the path. Growers in Sonoma and Napa counties later began planting mustard between their grape vines to promote soil health. The flowers are now an attraction in their own right, creating a painterly bed of yellow beneath the gnarled vines. Sonoma Magazine recommended 10 of the most dazzling spots.
---
Southern California
10.
A woman convicted in connection with the theft of Lady Gaga's French bulldogs has now sued the pop star, saying she is entitled to $500,000 in reward money. On Feb. 24, 2021, two men attacked Lady Gaga's dog walker, Ryan Fischer, shooting him in the chest. He survived. Jennifer McBride, 52, later returned the dogs. But authorities found that she had a relationship with one of the attackers. In her lawsuit, McBride alleged that Gaga went back on an offer to pay the reward with "no questions asked." L.A. Times | Washington Post
---
11.
Orange County's malls, fading from their 1990s glory days, may get second lives as apartment buildings. In a region where undeveloped land is rare and neighborhood groups battle new developments, some see malls as ideal places to address the housing crisis. In Westminster, officials have rallied around a plan to transform the mostly vacant Westminster Mall into a complex with shops, green space, and 3,000 residential units. L.A. Times
---
12.
In 1980, there were 234 warehouses in the Inland Empire. Today, there are more than 4,000. In San Bernardino, an Amazon warehouse project that's set to rise less than 2 miles from another Amazon warehouse will displace more than 2,000 people. Moving will strip them of friends, neighborhoods, routines, and their sense of community. "Sometimes I ask myself, 'Is this really happening?'" said Michael Jones-McCrary Sr., a 15-year resident. "It's happening." CalMatters
---
Correction
Monday's newsletter misstated the name of an Eastern Sierra highway. It's U.S. 395, not I-395.
---
Thanks for reading!
The California Sun is written by Mike McPhate, a former California correspondent for the New York Times.
Give the gift of the California Sun.
Get a California Sun mug, T-shirt, phone case, or hoodie.
Forward this email to a friend.
Click here to stop delivery, and here to update your billing information or cancel your support.

The California Sun, PO Box 6868, Los Osos, CA 93412
Subscribe
Wake up to must-read news from around the Golden State delivered to your inbox each morning.