Good morning. It's Thursday, July 7.
Gavin Newsom faces criticism for trip to sanctioned state.
California's struggling cannabis industry welcomes tax cut.
And a beautifully done portrait of a Kern County oil town.
---
Statewide
1.
Over the past five years, California has banned state-funded travel to 22 states identified as having anti-LGBTQ laws, a policy Gov. Gavin Newsom's administration has framed as a refusal to support bigotry. So when CalMatters reported Tuesday night that Newsom's family was vacationing in Montana, one of the sanctioned states, critics saw evidence of hypocrisy. "It must be hard for his family to meet all the woke rules that he and the 'Regressives have created for themselves," tweeted Assembly Republican leader James Gallagher. Anthony York, a Newsom spokesman, dismissed the report as "gotcha journalism." Politico | Sacramento Bee
---
2.
With Newsom stoking speculation about a potential presidential run, Politico told readers on Wednesday: "Forget Donald Trump versus Joe Biden. The biggest prelude to 2024 might just be the escalating back-and-forth between Gavin Newsom and Ron DeSantis. … On one side is Newsom, a progressive and telegenic leader who survived an attempted recall. On the other is DeSantis, who is often heralded as a more disciplined Donald Trump but who also has a penchant for populism and a refusal to back down from a fight."
---
3.
One general in the California National Guard had subordinates ferry his mother on shopping trips.
Another, it was alleged, called Jews unrepentant sinners and said gay marriage is a reason terrorists attack the U.S.
A colonel was charged with exposing himself to three women in a restaurant.
The reporter Paul Pringle uncovered disturbing allegations against California's top military officials along with a perception among Guard members that the misconduct is routinely tolerated. L.A. Times
---
4.
For years, California's cannabis industry has complained of being hobbled by excessive regulation and taxation as a black market thrives. But a new bill signed last week is now overhauling the state's cannabis tax structure. Most notably, it will eliminate a $10-per-ounce tax on cultivation. Industry leaders celebrated, even as some worried it may be too little too late. A recent survey found that just a quarter of California cannabis businesses are turning a profit. CalMatters | North Bay Business Journal
---
Northern California
5.
Cleve Jones has been a political and cultural leader in San Francisco's Castro for decades. He organized gay men and lesbians when the AIDS epidemic hit and created the AIDS Memorial Quilt. Yet in May, Jones, 67, moved to Sonoma County after the rent on his one-bedroom apartment soared from $2,400 to $5,200. He's not the only one fleeing the city. "Gayborhoods are going away," Jones said. "People need to pay attention to this." N.Y. Times
---
6.
In the 1960s, Margaret Keane's paintings of doleful, saucer-eyed figures seemed to be everywhere. They hung on walls at the United Nations in New York and the Bolshoi Theater in Moscow, and in the personal collections of Chiang Kai-shek and Red Skelton. Yet for years the Bay Area artist's husband took credit for her work, a fraud that was sensationally exposed in a courtroom paint-off. "The whole thing just snowballed," Keane recalled in an interview with the N.Y. Times, "and then it was too late to say it wasn't him who painted them." Margaret Keane died on June 26 at her home in Napa. She was 94. Washington Post | N.Y. Times
---
7.
☝️ This is Isla Rasa, a quarter-square-mile volcanic rock in the Gulf of California. If you live in the Bay Area, you have likely encountered its inhabitants. Nearly all Heermann's gulls, a distinctive red-billed species, spend colder months breeding on the island before flying to the California coast in the summer, staying through the end of the year. They are intensely devoted to their summering spots. A one-legged Heermann's gull named Ahab was reported to return to the same yacht club in San Rafael for 17 summers. Bay Nature included that fun fact in an illustrated feature on Bay Area species to look for this summer.
---
8.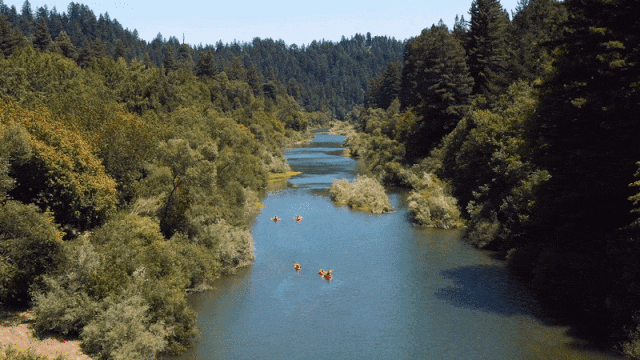 You should really float down the Russian River.
Drifting lazily through Sonoma County's verdant landscape, with friends and a six-pack in tow, is one of the finest ways to spend a summer afternoon in California. Danica Rodarmel, of San Francisco, told the Chronicle she goes every year as soon as it's warm: "Honestly, it's probably one of the places where I feel most alive." 7X7 recommended routes and pre-float breakfast spots.
---
Southern California
9.
Three years after the rapper Nipsey Hussle was fatally shot in South Los Angeles, a jury on Wednesday found 32-year-old Eric R. Holder Jr. guilty of first-degree murder in the case. Holder had known Hussle and grew up in the same gang, the Rollin' 60s Crips. Hussle transcended those years to become a motivational lyricist and community ambassador. The killing unfolded after a chance encounter during which Hussle told Holder about rumors going around the neighborhood that Holder had cooperated with law enforcement. A.P. | N.Y. Times
---
10.
A group rallying to oust Los Angeles County District Attorney George Gascón submitted more than 717,000 petition signatures to qualify for a recall vote later this year, surpassing the 566,857 signatures required. The signatures still need to be verified. Critics accuse Gascón of being soft on crime, echoing the frustrations that led to the June recall of Chesa Boudin, the progressive district attorney of San Francisco. A.P. | L.A. Times
---
11.
The filmmaker Sydney Bowie Linden spent six months following the life of an oilman in Taft, a conservative town at the edge of the San Joaquin Valley. It was 2020 and political tensions were high, but she said her aim was to make an observational film, not a political one. Titled "Black Gold," it's a beautifully done portrait of a community that sees its way of life under siege. YouTube/New Yorker (~17 mins.)
---
12.
The actor Anson Williams — otherwise known as Potsie from "Happy Days" — is planning to run for mayor of Ojai. The 72-year-old's move follows in the footsteps of other California entertainers who turned to politics, including former Palm Springs mayor Sonny Bono, former Carmel mayor Clint Eastwood, and former Gov. Arnold Schwarzenegger. Henry Winkler, who played Fonzie on "Happy Days," tweeted his approval: "You have my vote," he wrote. Deadline | KABC
---
Give the gift of the California Sun!

For $25, your recipient will get a nice email card and a 12-month subscription starting on the date of your choice.
👉 Sign up here.
---
Thanks for reading!
The California Sun is written by Mike McPhate, a former California correspondent for the New York Times.
Get a California Sun mug, T-shirt, or hoodie.
Forward this email to a friend.
Click here to stop delivery, and here to update your billing information or cancel your support.

The California Sun, PO Box 6868, Los Osos, CA 93412
Subscribe
Wake up to must-read news from around the Golden State delivered to your inbox each morning.