Good morning. It's Monday, Nov. 6.
Healthcare minimum wage to cost $4 billion in first year.
Golden Gate Bridge suicide net finally nears completion.
And a poacher is catching parrots in the San Gabriel Valley.
---
Statewide
1.
When Gov. Gavin Newsom signed a law guaranteeing a $25 minimum wage for medical employees, it included an ominous bit of analysis: "Fiscal impact unknown." Three weeks later, his administration has revealed an estimated price tag of $4 billion in the next fiscal year alone. That will make it among the most expensive bills the state has seen in years as it faces a projected deficit of $14 billion. It's unclear what might be cut to pay for the wage hikes. L.A. Times
---
2.
California is now completely drought-free for the first time in three years, according to federal officials. Last winter's bountiful atmospheric rivers refilled California's reservoirs and waterways but left some stubborn pockets of drought. Then Tropical Storm Hillary and other storms finally wiped them off the map. Sacramento Bee | U.S. Drought Monitor
With meteorologists predicting a second consecutive wet winter, state officials are urging residents to prepare for more widespread flooding and evacuations. L.A. Times
---
3.
In early October, Adam Ramer started one of the biggest jobs of his career. Just four years out of college, he became political director for the reelection campaign of Ro Khanna, a Democratic congressman from Silicon Valley. On Oct. 7, his sixth day on the job, Hamas attacked Israel. Nine days later, Ramer quit in protest over Khanna's refusal to call for a cease-fire in Gaza. Then he flew to the East Coast and joined a rally on the National Mall. "By the time he made it to Capitol Hill in person, he was no longer a political staffer, just another protester in the crowd," wrote Andrew Marantz. New Yorker
---
4.
Other California developments connected to the Middle East conflict:
The authorities opened a hate crime investigation after a hit-and-run left an Arab Muslim student injured at Stanford University on Friday. The student said the driver made eye contact with him and shouted "Fuck you and your people." Wall Street Journal | NBC News
A group of activists opposed to Israel's war against Hamas stormed a U.S. military vessel at the Port of Oakland on Friday, preventing its departure for hours. Three people were detained. A day later, crowds of pro-Palestinian protesters gathered in Los Angeles, San Francisco, and Sacramento, waving Palestinian flags and chanting "Cease-fire now!" S.F. Chronicle | SF Standard | L.A. Times
Last Thursday, Jewish community members held a fundraiser at a home in Southern California for one of the kibbutzes destroyed by Hamas on Oct. 7. The location was not publicized and armed security guards checked each guest. "In a way, Jews all around the world including us, today, now, share the fate of Kfar Aza survivors," one of the organizers said. L.A. Times
---
Northern California
5.
"I hate black people."
In March 2022, a San Jose police officer shot a Black college football player, K'aun Green, who had been trying to break up a brawl inside a downtown taqueria. That officer, Mark McNamara, who is white, has now quit the force after an internal investigation turned up text messages he sent that included wildly racist remarks. In one message to an unnamed recipient, McNamara refers to Green's lawyer: "Think I give a fuck what y'all n— think?!???? I'll shoot you too!!!!!" Mercury News | KGO
---
6.
"Jumping off the bridge was always an option, even a dark joke."
About 2,000 people are known to have died by jumping off the Golden Gate Bridge. For decades, decision makers avoided addressing the problem, hiding behind concerns over aesthetics, costs, and effectiveness. Now work is finally nearing completion on 3 ½ miles of stainless steel nets strung on both sides of the span. They are already showing themselves to work. N.Y. Times
---
7.
In 1987, a son of Armenian immigrants submitted a proposal to develop 93 units of housing on a 9,500-square-foot lot in San Francisco. The Planning Commission signed off. Everything seemed set. Then the neighborhood opposition came. Thirty-six years later, the lot is still sitting empty, a mound of dirt and weeds. The developer, now 76 and done fighting, is trying to find a buyer. "From a personal standpoint, when I read articles lamenting the housing crisis in San Francisco, I think, 'Well, you did it to yourself. You made the process so impossible,'" he said. SF Standard
---
8.
Pacific sea nettles are a regular presence in Monterey Bay, where swarms of the frilly jellies pulse through water in a mesmerizing ballet. The photographer Russell Laman just won the top prize in the "underwater life" category in the 2023 Nature Conservancy Photo Contest for his picture of Monterey Bay's sea nettles, above. He called it "Phantoms Adrift." Nature.org
---
Southern California
9.
Video of an apparent poacher retrieving two screeching green parrots caught in a net in the San Gabriel Valley has enraged local residents. The unidentified man is suspected of illegally rounding up and killing parrots throughout the area for about a week, authorities said. L.A. County Supervisor Kathryn Barger said she couldn't bear to watch the video. "I don't know what he's doing with those birds or why he would trap them, but I know we have to stop this," she said. L.A. Times | KTLA
---
10.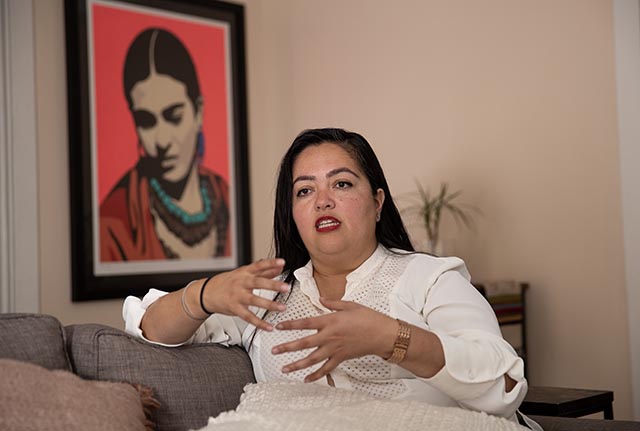 Assemblywoman Wendy Carrillo, a Los Angeles Democrat, was arrested on suspicion of drunk driving on Friday after crashing her car and testing more than twice the legal limit for alcohol, police said. A cellphone video shows Carrillo appearing to slur her speech and stumbling as officers perform a sobriety test. "I'm sorry, I sneezed and lost track of the vehicle," she tells the officers. In a statement, Carrillo apologized, but notably did not admit to drinking. Fox11 | L.A. Times
A day later, an off-duty Los Angeles police officer and his passenger were killed when a suspected drunk driver sped through a red light and slammed into his car in Northridge, authorities said. L.A. Times | A.P.
---
11.
In 1995, a book club in Venice Beach began meeting once a month to discuss James Joyce's notoriously perplexing novel "Finnegans Wake." The group's founder, Gerry Fialka, a filmmaker, once explained that one can't simply read "Finnegans Wake," only study it. So they would spend roughly two hours during each meeting dissecting a single page from the 628-page work. Last month, after 28 years, they finally finished. Their next book? Another reading of "Finnegans Wake." Daily Breeze | Irish Times
---
12.
"Even the grandmas here make Burning Man look like a bunch of grandmas."
Every year, tens of thousands of off-road enthusiasts gather in a temporary city on a dry lake bed in the Mojave Desert that they call Hammertown — complete with named streets, tent structures, and food. The journalist Ashlee Vance spent seven days at the 2023 event for a video report on the King of the Hammers, a 212-mile-long race that only the hardiest racers even finish. YouTube/Bloomberg (~24 mins)
---
Get your California Sun T-shirts, phone cases, hoodies, mugs, and hats!

---
Thanks for reading!
The California Sun is written by Mike McPhate, a former California correspondent for the New York Times.
Make a one-time contribution to the California Sun.
Give a subscription as a gift.
Get a California Sun mug, T-shirt, phone case, hat, or hoodie.
Forward this email to a friend.
Click here to stop delivery, and here to update your billing information. To change your email address please email me: mike@californiasun.co. (Note: Unsubscribing here does not cancel payments. To do that click here.)

The California Sun, PO Box 6868, Los Osos, CA 93412
Subscribe
Wake up to must-read news from around the Golden State delivered to your inbox each morning.