Good morning. It's Wednesday, Aug. 23.
Lawsuit argues California hurt students during pandemic.
Retiring soccer star Megan Rapinoe answers her critics.
And Orange County lawyer John Eastman is booked into jail.
---
Statewide
1.
For years, powerful trade unions blocked housing legislation in California that they felt guaranteed too few union jobs. Change finally came in August 2021, when a labor organizer named Jay Bradshaw unseated the 20-year incumbent leader of the Northern California Carpenters Union. Bradshaw argued that less stringent labor stipulations would lead to more projects and more jobs for all. Activists have called it the single most consequential shift in the fight over housing in decades. Vox
---
2.
In an Oakland courtroom this fall, California will defend itself against accusations that its pandemic policies harmed low-income students. In a brief supporting the lawsuit, Harvard psychometrician Andrew Ho accused the state of ignoring clear evidence that racial inequality widened across almost all subjects and grades. "By neglect or by intent, the state made their unsubstantiated belief that academic test score data could not be useful into a self-fulling prophecy," he wrote. EdSource
---
3.
A California law that set strict animal welfare standards for pork sold in the state has became a national states' rights issue. A new bill in Congress, called the Ending Agricultural Trade Suppression Act, seeks to overturn the law. "Keep bacon on the breakfast table," urged Republican sponsors of the measures. But on Monday, a group of more than 170 House members, including several Republicans, said the bill would usurp state power while imperiling hundreds of other state laws. Reuters
Nicholas Kristof: Pigs raised in the U.S. "are treated with what seems to me particular cruelty." N.Y. Times
---
4.
The Amargosa River has been called "the hide-and-seek river." The only free-flowing river in the Death Valley region begins in Nevada then meanders alternately above and below ground for 200 miles. After Tropical Storm Hilary, the Amargosa is now running strong and wide. The Amargosa Conservancy posted aerial video on Tuesday. @AmargosaConserv
"I'm trying to hold out hope, but it's really hard." Crews searched on Tuesday for a 75-year-old woman who has been missing for nearly two days in the San Bernardino Mountains. N.Y. Times
---
Northern California
5.
Lawyers for Sam Bankman-Fried told a Manhattan federal court on Tuesday that the Bay Area founder of FTX could not adequately prepare for trial while in jail without Adderall to help him concentrate and a diet more closely aligned with his vegan preferences. The lawyers said he was forced to subsist on bread, peanut butter, and water. They made their complaints as Bankman-Fried, dressed in a drab beige jail uniform, pleaded not guilty to charges including wire fraud and multiple conspiracy counts. A.P. | NBC News
---
6.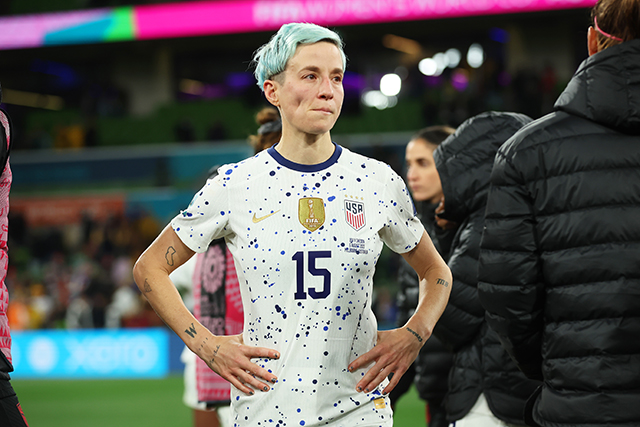 "'Oh, you guys don't sing the anthem, blah, blah, blah, blah, blah. You don't love America.' But we do love America. It's just more in a James Baldwin kind of way, not in a bald-eagle-on-your-shoulder kind of way."
Megan Rapinoe, the retiring soccer star and Redding native, answered her detractors in a new interview after America's disappointing exit from the FIFA Women's World Cup. The Atlantic
---
7.
The N.Y. Times dispatched three reporters to test San Francisco's Waymo robot taxis. "My ride was so smooth, the novelty began to wear off," Tripp Mickle wrote, "turning a trip to the future into just another journey across town. The car was precise and deliberate, albeit without the flexibility or interactions you would have with a human driver." It was easy to forget no one was behind the wheel, he added: "The only reminder comes as you start to thank the driver before climbing out of the car." N.Y. Times
---
8.
Around the start of the year, someone shot an arrow through the chest of a wild turkey in the Carmel Valley area. Months later, it seems to be doing fine, eating and roosting in treetops — with a roughly 2½-foot arrow still sticking out of both sides of its chest. People have taken to calling the bird Cupid. "She is such a survivor," said Beth Brookhouser, a local animal advocate. Washington Post
---

Give something they'll open every day.
Give the gift of the California Sun.
---
Southern California
9.
John Eastman, the Orange County lawyer who orchestrated a last-ditch bid to reverse Donald Trump's 2020 election loss, surrendered on Tuesday to the authorities in Georgia and was booked into a county jail. He was indicted last week along with Trump and 17 others, all accused of scheming to subvert the will of the state's voters. On his way out of the jail, an MSNBC reporter asked Eastman whether he still believed the 2020 election was stolen. "Absolutely," he answered. "Still?" the reporter asked. "No question," he said. "No question in my mind." A.P. | MSNBC
---
10.
While once unheard-of, it's become more common in recent years to mention suicide as the cause of death in obituaries. After Deborah Blum, of Los Angeles, lost her 16-year-old to suicide in November 2021, she composed a heartfelt tribute to her smart and funny child, but also wrote of the "mental exhaustion" that plagued the teenager, who had recently come out as nonbinary. "The least I could do was to be honest and tell people," Blum said. "I think being embarrassed just makes it worse." KFF Health News
---
11.
"Get ready to get gooped."
Gwyneth Paltrow put the guesthouse at her home in Montecito on AirBnb for a single-night stay. Why? The actress, whose lifestyle brand Goop is said to be worth around $250 million, explained that she wanted to "make the world feel a little less lonely." The announcement sent journalist Jodi Walker's mind racing. "The central question of my life became: How? How do I rent 'goop-Inspired Stay with Gwyneth Paltrow'?" The Ringer
---
12.
The California brown pelican is one of nature's masters of the wind. In recent years, researchers have decoded how the birds are able to float above the sea by catching invisible air currents. They perform the maneuver during one of the great shows of the Channel Islands, home to large pelican colonies. Each evening at overlooks such as the one above Potato Harbor on Santa Cruz Island, small flocks hover and weave along the bluffs, as though playing, against a backdrop of sea and a red-orange setting sun. Leaving from Los Angeles, you could be there within a few hours. The Outbound
---
Get your California Sun T-shirts, phone cases, hoodies, mugs, and hats!

---
Thanks for reading!
The California Sun is written by Mike McPhate, a former California correspondent for the New York Times.
Make a one-time contribution to the California Sun.
Give a subscription as a gift.
Get a California Sun mug, T-shirt, phone case, hat, or hoodie.
Forward this email to a friend.
Click here to stop delivery, and here to update your billing information. (Note: Unsubscribing here does not cancel payments. To do that click here.)

The California Sun, PO Box 6868, Los Osos, CA 93412
Subscribe
Wake up to must-read news from around the Golden State delivered to your inbox each morning.