Good morning. It's Friday, Jan. 27.
Haunting video from the Star Ballroom Dance Studio.
A judge blocks California's Covid misinformation law.
And Yelp declares country's best pizza is in Pasadena.
---
Statewide
1.
After California's January of plenty, state water managers announced Thursday that they would deliver much more water to cities and agricultural regions that have endured years of cutbacks. The California Department of Water Resources, which manages state water supplies, said districts serving 27 million people and roughly 1,200 square miles of farmland would get 30% of what they asked for. Last year, the final allocation was just 5%. CalMatters | A.P.
Other storm news:
Portions of Big Sur still remain isolated by rockslides along Highway 1. The California Highway Patrol was planning to fly in supplies. CBS Bay Area
The entire Central Coast is now drought-free, according to the latest map from the U.S. Drought Monitor. The region moved from "moderate drought" a week ago to "abnormally dry." KTLA
---
2.
Mike Zhang, 71, was filming the Lunar New Year celebration inside the Star Ballroom Dance Studio in Monterey Park moments before a gunman entered and killed 11 people last Saturday. The atmosphere was joyful, he said in a haunting first-person account. "I realized something was wrong when I saw people dropping to the ground." N.Y. Times (~2:45 mins)
Other mass shooting developments:
The Half Moon Bay farm where a gunman went on a shooting rampage had a history of workplace violence and squalid conditions. Workers live in ramshackle trailers without running water. Last summer, another disgruntled employee tried to kill a coworker. Mercury News | A.P.
In a jailhouse interview, Chunli Zhao admitted to carrying out the Half Moon Bay massacre, saying he had endured years of bullying. NBC Bay Area
---
3.
Sen. Dianne Feinstein, 89, told the website Raw Story on Wednesday that she hadn't yet decided whether she would run again in 2024. "I need a little bit of time, so it's not this year," the oldest member of Congress said. Asked about the increasingly crowded field of challengers for her seat, she said the more the merrier: "I'm a big girl." A day after her remarks, another prominent Democrat jumped into the race: Rep. Adam Schiff. Raw Story | Politico
---
4.
A federal judge on Wednesday temporarily blocked a new California law that allows regulators to punish doctors who share information about Covid-19 that runs counter to the "contemporary scientific consensus." U.S. District Judge William Shubb said the language of the law was "unconstitutionally vague." Civil liberties groups have railed against the legislation, which they say may be well-meaning but would have a chilling effect on medical practice. N.Y. Times | L.A. Times
---
5.
On March 13, 2000, Jim Zellers made the first snowboard descent of Yosemite Valley's Half Dome. He called it "The Half Brain Project." Last weekend, Mike Daniel, a Truckee pilot, took Zellers up over the valley in a small plane and had him narrate the story of his historic ride. Video from the trip includes incredible aerial views of Yosemite buried in snow. YouTube (~19 mins)
---
Northern California
6.
San Francisco's population has fallen to its lowest level in more than a decade — 834,046 residents as of July 2022 — as outmigration during the pandemic wiped out seven years of growth, new estimates showed. Altogether, the city lost about 56,000 residents in three years. That's equivalent to the combined populations of Bay Area cities Albany, Emeryville, and Millbrae. S.F. Chronicle
The Robin Williams Tunnel. Corner store It's-Its. 220 city parks. Here are 40 reasons not to leave San Francisco. 👉 SFGATE
---
7.
On this week's California Sun Podcast, host Jeff Schechtman talks with Ali Winston and Darwin BondGraham, authors of the new book, "The Riders Come Out at Night: Brutality, Corruption, and Cover-Up in Oakland." The "Riders" of the title were a group of cops around the turn of the millennium known for pushing policing to the limits of the law and beyond. "They would basically go out at night in unmarked vans and squad cars and look for people to jack up," Winston said.
---
8.
A museum dedicated exclusively to concert posters.
A rollicking disco roller party presided over by "The Godfather of Skate."
A bookstore that organizes its entire collection in chronological order.
Here's an explorer's guide to San Francisco's Haight-Ashbury, a place still wonderfully weird a half century after its 1960s heyday. 👉 Atlas Obscura
---
Southern California
9.
The State Bar of California wants to disbar John Eastman over his conduct while trying to help overturn the 2020 election loss of former President Trump. In a complaint filed Thursday, the licensing body accused the Southern California lawyer of making statements that constitute acts of "moral turpitude, dishonesty, and corruption." Eastman, a member of the bar since 1997, said he disputes "every aspect" of the charges. A.P. | Washington Post
Eastman's legal woes are likely to deepen: The Jan. 6 panel asked the Justice Department to investigate him on criminal charges. In testimony, a White House lawyer called Eastman the "serpent in the ear" of Trump. N.Y. Times
---
10.
Homeless people have been sleeping overnight in the Palm Springs airport. Personnel have counted up to 14 homeless people staying in the terminal area in a single week. One person had been there for six weeks. After the police chief told City Council leaders that his hands were tied because the airport is public property, they met Thursday and quickly approved a new ordinance: no loitering at the airport. Palm Springs Post
---
11.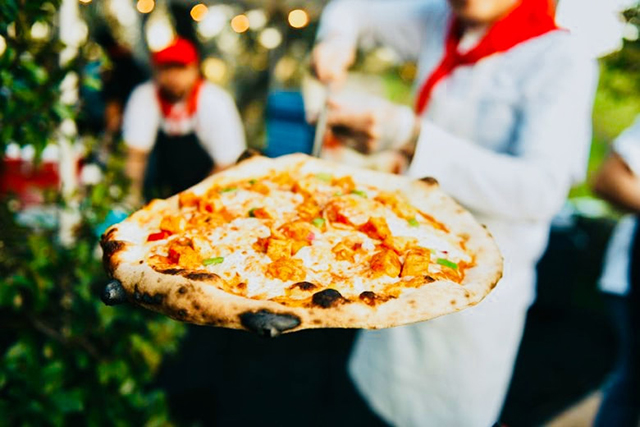 Sorry New York, but California has the country's best pizza.
That's according to a new Yelp analysis of customer reviews that identified America's top 100 pizza places. Just five California restaurants — in Pasadena, Laguna Niguel, Covina, San Diego and Los Angeles — made the list. But the No 1. spot went to Pasadena's Sapori Di 786 Degrees, known for exotic pies such as the Bombay tikka masala pizza with mango chutney and a wild mushroom pizza with truffle oil and Himalayan salt. Yelp | Sacramento Bee
---
In case you missed it
12.
Five items that got big views over the past week:
---
Get your California Sun T-shirts, phone cases, hoodies, and mugs.

---
Thanks for reading!
The California Sun is written by Mike McPhate, a former California correspondent for the New York Times.
Make a one-time contribution to the California Sun.
Give the gift of the Sun.
Forward this email to a friend.
Click here to stop delivery, and here to update your billing information or cancel your support.

The California Sun, PO Box 6868, Los Osos, CA 93412
Subscribe
Wake up to must-read news from around the Golden State delivered to your inbox each morning.