Good morning. It's Friday, Sept. 15.
Kevin McCarthy dares his detractors to remove him.
A student struggles to escape poverty in rural north.
And the odd sameness of everyone's perfect teeth.
---
Statewide
1.
Speaker Kevin McCarthy, visibly angry, dared hardliners in his party to remove him on Thursday. "If you think you scare me because you want to file a motion to vacate, move the fucking motion," he told Republicans in a closed-door meeting, according a source cited by Politico. With a government shutdown looming, tensions have flared between the California Republican and far-right members of the House who are demanding deeper cuts to spending. Washington Post | N.Y. Times
---
2.
State legislators on Thursday approved a resolution calling for a convention to add a gun control amendment to the U.S. Constitution. Gov. Gavin Newsom made the proposal on national television over the summer. Analysts portrayed it as a politically astute, if unattainable, move by the ambitious Democrat. L.A. Times | S.F. Chronicle
Other updates from the last day of the legislative session:
Newsom signed a law ending California's practice of banning state-funded travel to states with laws deemed to be discriminatory. Lawmakers acknowledged that the tactic had largely failed. Mercury News | Sacramento Bee
Other bills sent to the governor's desk would:
---
3.
On this week's California Sun Podcast, host Jeff Schechtman talks with Julie Johnson, a San Francisco reporter, about her examination of smoke dangers to California firefighters. Johnson talked about how firefighters commonly start their careers in their 20s, full of purpose and a sense of invincibility. Then they start to see their colleagues getting cancer. Suddenly they wonder, as one firefighter put it, "Am I not going to see my children grow up?"
---
Northern California
4.
Students in California's rural north face poverty and neglect at rates higher than anywhere else in the state. At a high school in Alturas, 18-year-old Linda Plumlee is trying to rise above her circumstances. She has bounced around on couches and spare beds for years, yet holds two jobs and the office of student body president. This year, she learned that she got into UC Berkeley. "I want a future," Plumlee said. "I want to do something with my life. And I'm the only one who's going to get me there." L.A. Times
---
5.
Cade Hall was one of the greatest defensive linemen in San Jose Spartans history. At 6-foot-3, 270 pounds, he was expected to be selected in the later rounds of April's NFL draft. Instead, he is working 10-hour days in a construction job in Orange County after announcing that he was retiring from the game. The 23-year-old said he didn't want football to define him; besides, he likes construction. "It's a rewarding feeling," he said, "like you really accomplished something." S.F. Chronicle
---
6.
During the social unrest of the summer of 2020, students at Cabrillo College on the Monterey Bay coast circulated a petition calling on the institution to change its name. The namesake, the Spanish explorer Juan Rodríguez Cabrillo, is credited with being the first European to reach California, but he also waged brutal conquests of native peoples. The college's trustees initially agreed, but then faced a backlash, especially from alumni. This week, they decided to put off any talk of name changes until at least 2028. Lookout Santa Cruz | Good Times
---
7.
Less than 20 minutes from Interstate 5 in California's Shasta Cascade region is a lava-lined underworld that stretches more than a mile. Pluto's Cave formed roughly 190,000 years ago when rivers of lava channeled into the earth, leaving behind a massive subterranean tube as tall as 50 feet in places. Several natural skylights along the tunnel allow ethereal beams of sunlight to flood into the darkness. Few people ever visit. Outdoor Project | California Through My Lens
---
Southern California
8.
In 2022, George Gascón, the progressive district attorney of Los Angeles County, became an unlikely hero of election truthers when he accused the leader of an elections technology company of storing sensitive data on Chinese servers. But it soon emerged, reports showed, that he had based the prosecution almost entirely on the word of right-wing conspiracy theorists. Gascón quietly dropped the case. On Thursday, the elections company executive, Eugene Yu, filed a lawsuit, claiming he lost $80 million and half of his clients. L.A. Times
---
9.
Kevin Sands, a Beverly Hills dentist who advertises himself as "the Rolls-Royce of cosmetic dentistry," has more than 750,000 followers on Instagram. At his website, 90210dentist.net, the homepage shows him grinning alongside celebrity clients: Emma Stone, Miley Cyrus, Taylor Swift, Drake. Sands said when he went into practice in 1999, cosmetic dentistry wasn't all that popular. Now, he said, "Everybody wants to look like Kim." The Washington Post explored how it came to be that "everyone's teeth are a little too perfect."
---
10.
Lisa Lyon died last Friday at her home in Westlake Village. Two years before "Jane Fonda's Workout Book" was published, Lyon won the World Women's Bodybuilding championship, held in Los Angeles in 1979. It made her a minor celebrity. Lyon saw herself as a performance artist, not a muscle star, and wanted to explore new archetypes of femininity. She became a staple of the TV talk show circuit and a muse for the famed photographer Robert Mapplethorpe, who made scores of portraits of her. The cause of her death was cancer. She was 70. N.Y. Times
---
California archive
11.
In 1959, Venice hosted a "Miss Beatnik" contest that produced a quintessential photo for its time and place: four young women lounging front of a painting wearing dark hues and expressions of intense nonchalance. Venice in the 1950s and early 1960s was Southern California's answer to the beatnik enclaves of San Francisco and Manhattan. "To this area of Los Angeles … have come the rebellious, the nonconformist, the bohemian, the deviant among the youth," Lawrence Lipton wrote in a 1959 canonization of the scene.
It was during this cultural upheaval that Patti McCrory, an aspiring actress from Louisiana, was recruited to join the beauty pageant sponsored by a local arts group. It courted controversy. "True beatniks," Lipton scoffed to a reporter, "are interested only in writing poetry, listening to jazz and making love." But it provided a career jolt for the teenage McCrory, pictured second from the right above, who parlayed the publicity into several television appearances. More than half a century and several career changes later, in 2015, McCrory reminisced on an internet jazz forum about her Venice days: making art, dancing nightly, hanging with Dennis Hopper, and spinning the records of Nina Simone. "I still cannot listen to her without crying a little bit," she said.
---
In case you missed it
12.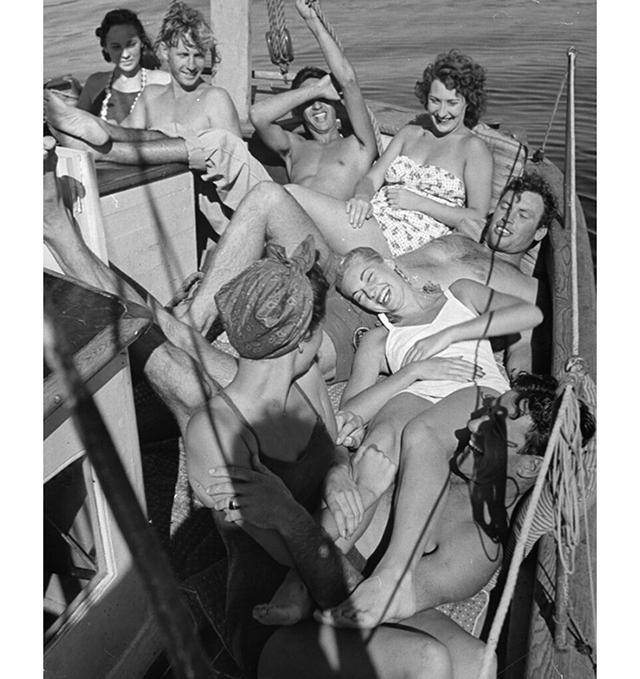 Five items that got big views over the past week:
---
Get your California Sun T-shirts, phone cases, hoodies, mugs, and hats!

---
Thanks for reading!
The California Sun is written by Mike McPhate, a former California correspondent for the New York Times.
Make a one-time contribution to the California Sun.
Give a subscription as a gift.
Get a California Sun mug, T-shirt, phone case, hat, or hoodie.
Forward this email to a friend.
Click here to stop delivery, and here to update your billing information. To change your email address please email me: mike@californiasun.co. (Note: Unsubscribing here does not cancel payments. To do that click here.)

The California Sun, PO Box 6868, Los Osos, CA 93412
Subscribe
Wake up to must-read news from around the Golden State delivered to your inbox each morning.