Open in browser | Forward to a friend
Good morning. It's Tuesday, Nov. 21.
OpenAI employees threaten exodus over CEO's ouster.
X sues media watchdog as advertisers flee platform.
And lawmakers demand answers after CHP shooting in L.A.
Please note: The newsletter will pause through the Thanksgiving weekend. Enjoy your holiday and we'll be back in your inbox Monday.
---
Statewide
1.
California began losing people for the first time in 2021. But not every place in the state is shrinking. State analysts projected that coastal counties will lose more people in coming decades, but Central Valley counties will grow — in some cases sharply. On a tour of Lathrop in San Joaquin County, a town official showed off new apartments, new fast-food joints, and almond groves that were to be plowed under for an industrial park. "There's goats there now," she said, pointing to a field, "but if you come back again there will be something built there." Economist
---
2.
After wildfires in Sequoia and Kings Canyon national parks wiped out nearly a fifth of the world's sequoias, foresters embarked on an ambitious effort to replant six groves. Now they are facing a legal challenge from an unexpected quarter — a group of conservationists who have demanded that the work stop. The project is improper, they contend, because the burned areas are designated "wilderness," where human intervention is prohibited. "Wilderness is for natural processes and natural succession," said Chad Hanson, of the John Muir Project. S.F. Chronicle
In Big Basin Redwoods State Park, redwoods scorched by fire in 2020 are nearly all green again, biologists reported. Mercury News
---
Northern California
3.
After the stunning dismissal of its chief executive over the weekend, OpenAI sank deeper into turmoil Monday as more than 700 of its 770 employees signed a letter threatening to join ousted CEO Sam Altman at Microsoft if he is not reinstated. Even one of the board members who helped push Altman out, Ilya Sutskever, reversed himself and signed the letter. Tech leaders were at a loss to explain OpenAI's behavior. "This is the debacle of the decade," said Gaurav Oberoi, the founder of Lexion. N.Y. Times | Washington Post
---
4.
Elon Musk's X sued Media Matters on Monday after the left-leaning advocacy group reported that ads on X appeared next to antisemitic content. The findings fueled an advertiser exodus, as IBM, Apple, Warner Bros. Discovery, and Sony paused spending on the platform. The lawsuit accused Media Matters of manipulating algorithms on the site to produce the juxtapositions as part of a "blatant smear campaign." Hours after it was filed, Ken Paxton, the Texas attorney general, announced an investigation into Media Matters for "possible fraudulent activity." Bloomberg | Courthouse News Service
Ben Brody, a recent UC Riverside graduate, sued Musk after he amplified false accusations that Brody was an undercover agent in a neo-Nazi group. He wants $1 million and an apology. CNN
---
5.
Many Solano County farmers agreed to sell their land to Silicon Valley investors hoping to build a new European-style city. But one large landholder in the middle of the proposed city is still holding out. Albert Medvitz and his wife, Jeanne McCormack, said the group first approached them in 2021, offering $20 million for the farm that's been in McCormack's family since the 1880s. Two months later, the offer was raised to $30 million. But they aren't going anywhere, Medvitz said. "It's like asking the Pope if he would give up being a priest for $2 billion." ABC10
---
6.
A wellness company once named San Francisco the worst city in America for strong social connections. It can be a hard place to make friends, said Dorothy Li, 37, who felt bewildered after moving to the city in 2022. "Like, why is SF so lonely?" she recalled thinking. Then the Stanford Business School graduate founded a startup called RealRoots, billing it as a "boot camp for making friends." Reporter Christina Campodonico gave it a try. It was not "a cinematic montage of gal palling," she said. But she had fun. "In short, I think I began some female friendships." SF Standard
---
7.
Bay Area author Anne Lamott on the art of growing older:
"I simultaneously cannot bear the news and cannot turn it off. It's cobra hypnosis — Gaza, Israel, the shootings in Maine. The world is as dark as a scarab. I have two memorial services on my calendar this week. … The great darkness says to me what I often say to heartbroken friends — 'I don't know.'" Washington Post
---
Southern California
8.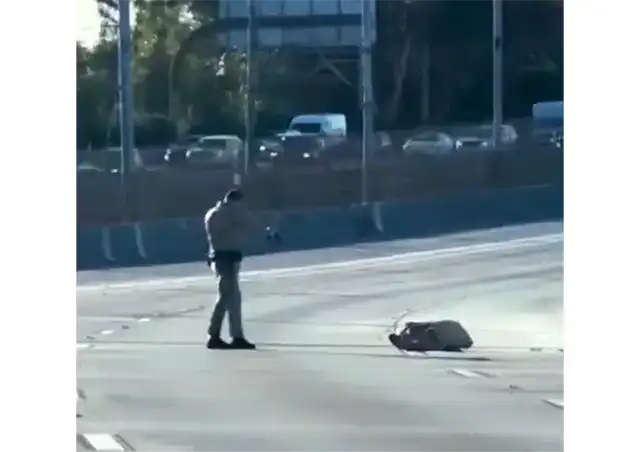 Bystander video showing a California Highway Patrol officer fatally shooting a man on the 105 Freeway in South Los Angeles on Sunday drew condemnation from several lawmakers who questioned the use of force. In the video, a trooper can be seen struggling with a man before pulling away and firing several rounds at close range. CHP officials said Monday that the man had taken a Taser from the officer and used it against him. State Sen. Steven Bradford called the video "deeply disturbing." L.A. Times | KTLA
---
9.
J.B. Hamby graduated from Stanford with a B.A. in history and classics in 2019. A year later, he won a seat on the Imperial Irrigation District's board of directors, then rose to vice president and chair of the Colorado River Board of California. He's now 27. "Combined, these roles position Hamby as arguably the most powerful person involved in talks on the future of the Colorado River, a waterway that is relied upon by an estimated 35 million people and supports about $1.4 trillion worth of commerce," reporters wrote in an eye-opening profile. ProPublica/Desert Sun
---
10.
Tracy Moore, a writer in Los Angeles, declared tipping officially out of control. Once a way of showing appreciation after a haircut, a sit-down meal, or a car retrieved by a valet, gratuities are now requested before services are rendered, upending their traditional meaning. "But let there be no confusion about who is at fault here," she wrote. "It is the companies who are betting that hurried consumers will subsidize what employers won't pay themselves." Washington Post
---
11.
The signature boulder piles of Joshua Tree are known as inselbergs, a German word meaning "island mountain." Long ago, the region was a landscape of rolling, vegetation-covered hills. Eons of erosion exposed the towers of boulders, cooled magma that had oozed up from earth's interior millions of years earlier. Walking among them, shimmering in hues of pink against the desert sky, is unforgettable. Winter is a great time to visit, when the nights are chilly but the days are mild and uncrowded. Evolista | The Crowded Planet
Watch a great little animation depicting the formation of Joshua Tree's inselbergs. 👉 YouTube
---
12.
In the late 1990s, the photographer Keith Schoenheit removed the type from a series of darkly lit photos of billboards around Los Angeles. The result, one curator said, "transforms the subliminal process that is at the core of advertising," turning something meant to move products into an object of fine art. See more images from the series. 👉 PhotosbyKeith.net
---
Thanks for reading!
The California Sun is written by Mike McPhate, a former California correspondent for the New York Times.
Make a one-time contribution to the California Sun.
Give a subscription as a gift.
Get a California Sun mug, T-shirt, phone case, hat, or hoodie.
Forward this email to a friend.
Click here to stop delivery, and here to update your billing information. To change your email address please email me: mike@californiasun.co. (Note: Unsubscribing here does not cancel payments. To do that click here.)

The California Sun, PO Box 6868, Los Osos, CA 93412
Subscribe
Wake up to must-read news from around the Golden State delivered to your inbox each morning.