Good morning. It's Monday, Sept. 11.
State's voters resoundingly oppose cash reparations.
Diversity statements stir debate at university campuses.
And photos of a gauzy California lifeguard party in 1940.
---
Statewide
1.
A poll released on Sunday found that nearly 60% of Californians oppose cash reparations for the descendants of enslaved African Americans, outnumbering supporters by a two-to-one margin. Republican voters were virtually unanimous in opposition, the UC Berkeley survey found, while Democrats were evenly split. The results underscored the predicament faced by Democratic lawmakers, who are under pressure to deliver on the recommendations of a reparations task force they established in the months after the 2020 killing of George Floyd. L.A. Times | Mercury News
---
2.
Gov. Gavin Newsom on Sunday said that his thinking on California's tough Covid-19 restrictions during the pandemic had "evolved" and that the criticism he faced was "legitimate, in terms of reflection." NBC's Chuck Todd asked Newsom how he justified accommodations that allowed the film industry to get back to work even as mourners were forbidden from gathering for funerals. "We didn't know what we didn't know," Newsom said. He added later, "I think we would've done everything differently." Politico | NBC News
---
3.
Yoel Inbar, a noted psychology professor at the University of Toronto, appeared poised to join the faculty at UCLA this fall. But the offer failed to materialize after a group of more than 50 graduate students circulated a petition denouncing his candidacy. Why? Years earlier, Inbar had criticized the practice of diversity statements in hiring, which he considered empty "value signaling." Reporter Michael Powell wrote about how diversity statements, now common at California universities, have become a new flashpoint in campus debates over race. N.Y. Times
---
Northern California
4.
X, Elon Musk's social platform formerly known as Twitter, appears to be throttling links to the New York Times, a data analysis showed. Since July, engagement with Times links has fallen off dramatically — a decline not reflected in links to other news organizations. Musk, whose gut decision-making has transformed the San Francisco company, has made no secret of his disdain for the Times, calling it "propaganda," the "equivalent of diarrhea," and "unreadable." Semafor
Columnist David French: "Twitter isn't so much a free speech paradise as the generalissimo's playpen." N.Y. Times
---
5.
More than eight months after an earthquake left roughly 90 homes red-tagged in the hamlet of Rio Dell in Humboldt County, most of residences remain unlivable. The damage wasn't severe enough to trigger relief from FEMA. And, like 90% of Californians, many of the hardest hit residents in Rio Dell lacked earthquake insurance, meaning they are largely on their own. Jacqui McIntosh said she and her husband put their whole lives into their house, now facing foreclosure. "I thought help was going to come," she said, "and it hasn't." North Coast Journal
---
6.
Logan Walker awoke on the morning of July 31 to find his 10-ton sailboat, en route to Seattle from San Francisco Bay, stuck on the shore near Stinson Beach. Sympathizers, including the Grateful Dead's Bob Weir, showed up with shovels to help dislodge the vessel — so far without success. But weeks later local authorities, cheered on by residents who see the boat as an eyesore, have said enough is enough. They've given him until noon today to relaunch or face a "new plan." That's been interpreted to mean destruction. KGO | SFist
---
7.
Jessica Carew Kraft, a Berkeley mother of two, quit her job in tech to pursue so-called "rewilding," a movement that promotes a hunter-gatherer lifestyle as an antidote to our over-manufactured and disconnected life. Among her new passions: roadkill dinner parties. "We have an overpopulation of deer in the Berkeley Hills," she said. "It would be great if more people would eat it." Berkeleyside
---
Southern California
8.
In 2018, the Democratic congressional candidate Ammar Campa-Najjar mounted a formidable challenge to incumbent Rep. Duncan Hunter, the scion of a San Diego political dynasty. Hunter responded with overtly racist smears against Campa-Najjar, who is the son of a Mexican American mom and Palestinian American father, warning that he was a national security threat who would "infiltrate" Congress. Campa-Najjar lost. But he's got a new mission now: He's an officer in the U.S. Navy Reserves, assigned to the Pacific Fleet. L.A. Times
---
9.
In arid Southern California, it's become harder to justify the lush green golf courses that dot the region. Environmentalists say golfers are going to have to change their expectations of what courses should look like as they face stricter restrictions. "My hope is that courses that look more like California than Scotland will become the norm, and will not only be expected but desired," said John Buse, senior counsel at the Center for Biological Diversity. Washington Post
---
10.
Gallerists have called Salvation Mountain, a psychedelic monument near the Salton Sea, one of the country's most important public artworks. But nine years after the death of its creator, an eccentric from Vermont named Leonard Knight, the sculpture is disintegrating in the hot desert sun. "There's just a handful of us that are trying to keep it together," said Little Dribbling Gray Wolf, 57, one of a few docents. "It's not been easy, and Mother Nature has been our worst enemy the past few years." N.Y. Times
---
11.
The largest ever retrospective of Ed Ruscha's work at Manhattan's Museum of Modern Art has art critics reaching for some lofty language. The N.Y. Times' Jason Farago declared Ruscha, who works in Culver City, the "deadpan laureate of American art." Jerry Saltz, of Vulture, called the artist the embodiment of "L.A.'s glamour and chaos." Saltz highlighted Ruscha's 25-foot-long photographic work "Every Building on the Sunset Strip," which is included in the exhibit. "It is not a street so much as it is a concentration of various commercial and aesthetic forces, a state of mind, and, in this case, a myth reddened by California light," he wrote. N.Y. Times | Vulture
Explore "Every Building on the Sunset Strip." 👉 Getty.edu
---
12.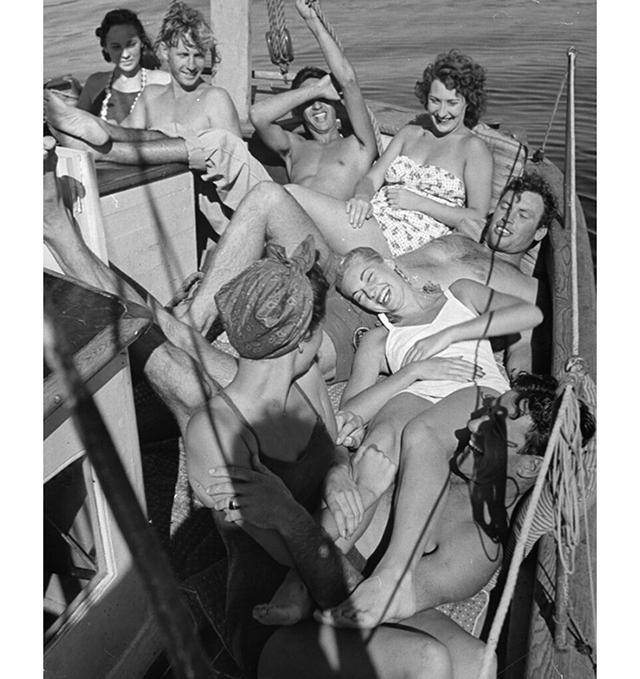 The Nov. 18, 1940, issue of LIFE magazine featured a photo essay on an idyllic end-of-summer lifeguard party in Southern California. The "happy healthy guards," the magazine wrote, dove for seafood, boiled their catch on the shore, then dozed off in the late afternoon sun: "As they sailed home through the slanting sunlight, they realized with quick regret that the day had been brief, the hot golden summer finally fled." LIFE.com republished 12 photos from the essay.
---
Get your California Sun T-shirts, phone cases, hoodies, mugs, and hats!

---
Thanks for reading!
The California Sun is written by Mike McPhate, a former California correspondent for the New York Times.
Make a one-time contribution to the California Sun.
Give a subscription as a gift.
Get a California Sun mug, T-shirt, phone case, hat, or hoodie.
Forward this email to a friend.
Click hereto stop delivery, and here to update your billing information. To change your email address please email me: mike@californiasun.co. (Note: Unsubscribing here does not cancel payments. To do that click here.)

The California Sun, PO Box 6868, Los Osos, CA 93412
Subscribe
Wake up to must-read news from around the Golden State delivered to your inbox each morning.