Good morning. It's Tuesday, Oct. 10.
Protesters in California respond to Mideast carnage.
Motorist barrels into Chinese consulate in San Francisco.
And a billionaire who gave away his entire fortune dies.
---
Statewide
1.
Gov. Gavin Newsom decided the fate of hundreds of bills in recent days as he faces an Oct. 14 deadline to act on legislation approved during the 2023 session.
He approved measures that will:
He vetoed measures that would have:
---
2.
After ruling out another bid for speaker, Rep. Kevin McCarthy now says he is open to reclaiming the post. On Monday, with the House Republicans in disarray, the Bakersfield lawmaker positioned himself as a de facto leader, bitterly criticizing the Biden administration over the strength of its defense of Israel. A report in Politico said scores of Republicans are discussing a long-shot effort to reinstate McCarthy. "We need to bring back Kevin, immediately," one lawmaker said. Politico | N.Y. Times
---
3.
Rallies in support of both Israel and Palestinians have gathered in cities across California in the days since Hamas militants mounted the deadliest incursion into Israeli territory in decades, eliciting crushing Israeli military reprisals. In downtown San Francisco on Sunday, hundreds of pro-Palestinian protesters chanted: "Resistance is justified when people are occupied." A day later, thousands of Israel supporters poured into the streets of Beverly Hills, creating a sea of Israeli flags. S.F. Chronicle | KTLA
See 17 photos from the San Francisco protest. 👉 Reddit
Only one of California's three leading Democratic candidates for Senate, Rep. Adam Schiff, expressed unequivocal support for Israel. "Right now, Israel is being brutally attacked. It is a victim of terrorist attacks," he said. Politico
As X was inundated with spurious information over the weekend, Elon Musk made the situation worse: He urged his massive audience to follow two accounts notorious for disseminating lies. Washington Post | Wired
---
4.
In 2017, on a lark, the landscape photographer Reuben Wu tested a long-exposure photograph of an illuminated drone over a nighttime landscape. The result was a revelation, leading Wu to shift how he approaches his craft. He began to see himself less as a photographer than as an artist who uses drones as his paintbrush and the stark landscapes of the West as his canvas. See collections of his work. 👉 Colossal | Behance
---
Northern California
5.
A motorist rammed a car into the Chinese Consulate in San Francisco on Monday, coming to a stop in the lobby, where he was fatally shot by responding police officers, the authorities said. The driver was not identified and police said they didn't know what led to the crash. A witness told the SF Standard that the driver shouted "Where's the CCP?" using the acronym of the Chinese Communist Party. The Chinese consulate condemned the "violent attack" and asked that it be "dealt with seriously in accordance with the law." SF Standard | A.P.
Video captured the scene right after the crash. 👉 @BNONews
---
6.
Elizabeth Hirschhorn, the woman who was portrayed in the L.A. Times as a "tenant from hell" after she refused to leave an Airbnb rental in Los Angeles, has faced squatting accusations before, court records showed. Hirschhorn, a Harvard graduate, began subletting a room in Oakland in 2019 but refused to leave or pay rent, citing Covid-19 pandemic eviction regulations. The homeowner eventually left, blaming a "hostile environment." A court battle was resolved in 2021 on undisclosed terms. A month later, she moved into the L.A. guest house. Daily Mail | Mercury News
---
7.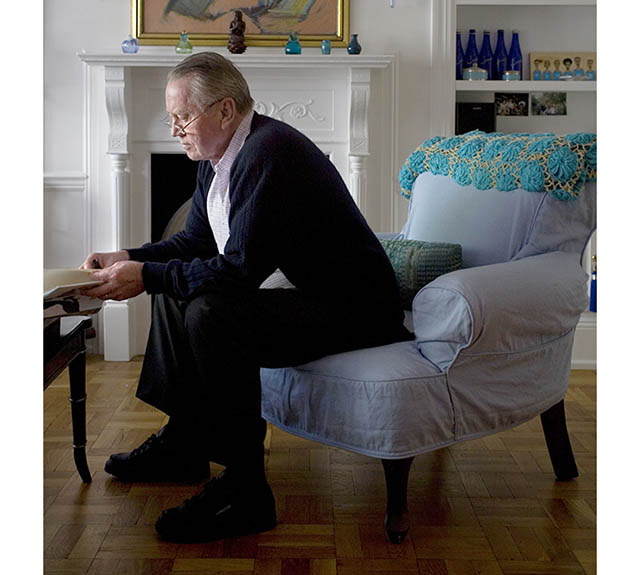 Charles Feeney, a reclusive billionaire who gave nearly all of his money away, died on Monday in San Francisco. He was 92. Feeney amassed some $8 billion after cofounding the airport retail chain Duty Free Shoppers. Then, over the ensuing decades, he made gifts to universities, hospitals, and human rights groups, completing a quest to donate his entire personal wealth in 2016. He lived out his final years with his wife in a small rented apartment in San Francisco on a nest egg of about $2 million. He told Forbes a few years ago that he couldn't be happier. N.Y. Times
---
8.
A new pumpkin champion was crowned Monday, after a Minnesotan named Travis Gienger showed up to the 50th World Championship Pumpkin Weigh-Off in Half Moon Bay with a specimen that weighed in at a world-record 2,749 pounds. It was estimated that the lumpy orange gourd could produce 687 pies. "I was not expecting that. It was quite the feeling," said Gienger, 43, who was awarded $30,000 in prize money. His secret, he said: watering 12 times a day and extra fertilizer. A.P. | KTVU
---
Southern California
9.
Kevin de León and Gil Cedillo, the Los Angeles politicians who became pariahs over a leaked recording that included racist remarks, filed separate lawsuits against two labor leaders whom they blame for the leak. The lawsuits say the defendants "surreptitiously recorded" the councilmembers and released the audio in a bid to harm to their reputations and careers. "Nuance was ignored, context was hijacked and a frenzy was manufactured," de León's lawsuit said. L.A. Times | Los Angeles magazine
De León is the last one standing a year after the audio leak. He's now waging a battle for reelection. "When you make a mistake, you have to eat shit," he said. "And that's what I've been doing." L.A. Times
---
10.
Fallen from the middle class, Laura Garciaros is now homeless, 60, and living in an RV parked in North Hollywood. She's not unusual: Nearly half of single adults living on California's streets are older than 50. Even a minor miracle — winning a federal Section 8 housing voucher that would allow her to rent a one-bedroom apartment — was not enough to get Garciaros off the streets. The paperwork demands from housing authorities were so torturous that at one point, she fell to tears, despondent. "I'm tired," she said. "Way down deep tired." L.A. Times
---
11.
A man wearing a backpack and claiming to have a bomb climbed the Santa Monica Pier ferris wheel on Monday and refused to come down, leading the authorities to evacuate the entire pier. Firefighters used a lift to rescue dozens of terrified riders trapped on the 90-foot wheel as crisis negotiators tried to reason with the man and helicopters swirled overhead. He came down after about two hours. Police said they found no bombs. KTLA | Santa Monica Daily Press
---
12.
Over the last year, sports leaders have been waging a fierce battle over who will get included in the 2028 Los Angeles Olympics. On Monday, organizers of the Los Angeles Games said they recommend allowing all of them. They asked the International Olympic Committee to add baseball, softball, cricket, lacrosse, flag football, and squash to the program. Reports said the IOC appeared likely to approve the plan at its session in Mumbai next week. Wall Street Journal | The Guardian
---
Correction
Last Tuesday's newsletter misspelled the name of a mountain in Washington state. It's Mount Rainier, not Mount Ranier.
---
Thanks for reading!
The California Sun is written by Mike McPhate, a former California correspondent for the New York Times.
Make a one-time contribution to the California Sun.
Give a subscription as a gift.
Get a California Sun mug, T-shirt, phone case, hat, or hoodie.
Forward this email to a friend.
Click here to stop delivery, and here to update your billing information. To change your email address please email me: mike@californiasun.co. (Note: Unsubscribing here does not cancel payments. To do that click here.)

The California Sun, PO Box 6868, Los Osos, CA 93412
Subscribe
Wake up to must-read news from around the Golden State delivered to your inbox each morning.