Good morning. It's Thursday, Oct. 24.
Today's edition: 13 items,
| | |
| --- | --- |
| • | Wind-driven fire races across northeast Sonoma County. |
| | |
| --- | --- |
| • | Sheriff's deputy fatally shot in El Dorado County. |
| | |
| --- | --- |
| • | And Mark Zuckerberg faces intense grilling on Capitol Hill. |
2
A fire camera south of Petaluma captured the Kincade fire at about 2:25 a.m. Thursday
A fast-moving wildfire erupted in northeast Sonoma County late Wednesday. The Kincade fire ignited around 9:45 p.m. and raced across more than 10 square miles within hours, prompting mandatory evacuation orders for nearly 300 residents east of Geyserville. It had no containment early Thursday, officials said. "This is an all-hands on deck effort," a local politician said. Press Democrat | S.F. Chronicle
3
The Trump administration took another step to block California's efforts to fight climate change, opening a legal assault on the state's carbon-cutting pact with Quebec. The lawsuit argues that California exceeded its constitutional authority by making a deal with the Canadian province to limit emissions through a cap-and-trade program. "Defendants have intruded into the federal sphere," Justice Department lawyers wrote. Former Gov. Jerry Brown called the move "worthy of being added to the articles of impeachment." Bloomberg | L.A. Times
4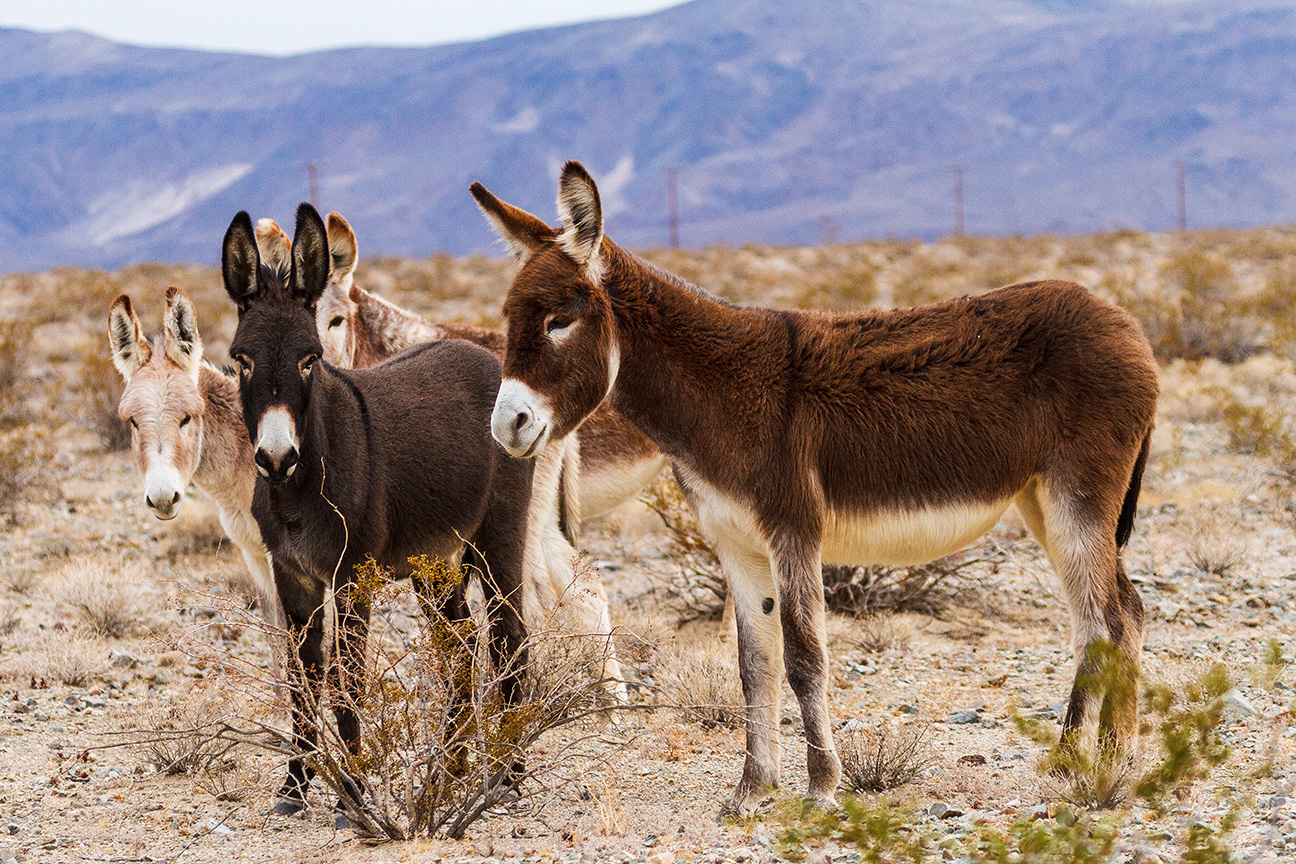 Wild burros in Death Valley are descendants of pack animals used by miners.
Back in the Gold Rush days, miners would release their burrros in the desert once they lost their use for them. The animals' descendants are now legion in Death Valley, and with no predators expanding exponentially. The National Park Service wants to eliminate them. But it turns that wells dug by the burrros have been providing water to other animals. A biologist noted that humans killed off many big animals that once roamed California. Adding nonnative species can bring changes, he argued, that "are actually a restoration to the way the world must have been for 15 million years." Undark Magazine
5
Scott Reinhard, a graphic designer from Brooklyn, uses elevation data to add digital shadows to old maps. The results are striking 3D artworks. He's transformed a 1915 map of California, above, a 1911 map of Nevada County, and a 1950 map of Mount Whitney, among others. ScottReinhard.com | designboom
Northern California
6
Deputy Brian Ishmael had been on the El Dorado County sheriff's force four years.
El Dorado County Sheriff's Office
"Officer is hit, down, and we can't get to him."
A sheriff's deputy responding to a reported theft of marijuana plants in the foothills east of Sacramento was fatally shot, officials said. El Dorado County Sheriff's Deputy Brian Ishmael, 37, "immediately came under fire" as he arrived at a residence in Somerset along with another off-duty deputy, who was also shot but survived, the sheriff's office said. Two men were taken into custody. Ishmael is survived by a wife and three daughters. Sacramento Bee | KCRA
7
Former Fresno Police Chief Jerry Dyer said the killing was "within department policy."
John Walker/Fresno Bee, via Getty Images
Newly released video shows a Fresno police officer shooting an unarmed 16-year-old in the back of the head as he is running away, killing him. "Good shot," his partner says. The boy, Isiah Murrietta-Golding, was a suspect in a shooting a day earlier. An internal police investigation concluded the killing of Murrietta-Golding was justified. The boy's father is suing. "There absolutely is no way the officer's life was in danger," his lawyer said. KFSN | Fresno Bee
8
"As soon as the Taser was deployed, the fire literally hit the ceiling."
A Siskiyou County man, doused in a flammable liquid and grasping a lighter, was threatening to hurt himself. According to family members, Paul Jason Hall had a history of mental illness and was "crying out for help." A responding officer told him to drop the lighter. He refused. That's when the officer decided to shoot Hall with a stun gun, instantly setting him on fire. He's now fighting for his life with burns covering 70 percent of his body. Record Searchlight
9
Mark Zuckerberg testified before the House Financial Services Committee on Wednesday.
Aurora Samperio/NurPhoto via Getty Images
Mark Zuckerberg has become the political villain of 2020, and Wednesday was open season as he appeared for a hearing on Capitol Hill. Digg collected a few clips of lawmakers grilling the Facebook leader on political advertising, workplace conditions, and the company's record on diversity. Digg | recode
Farhad Manjoo to Zuckerberg: "You're everyone's favorite political punching bag, for good reason. Why not take the decade off?" N.Y. Times
Southern California
10
Despite its size and profile, Forever 21 operated with near-total privacy in its business dealings.
David Paul Morris/Getty Images
The collapse of Forever 21 could be fodder for the next "Succession"-style TV drama. When the Los Angeles retailer filed for bankruptcy last month, it blamed lower mall traffic and the rise of e-commerce. But former employees also blamed its insular founding family, the Changs, and the vise-like grip they held since the 1980s. One example: As recently as this year, the CEO and founder was personally signing off on employee expenses and questioning executives about receipts for Uber rides. N.Y. Times
11
Jane Buckingham was sentenced Wednesday for her role in the college admissions scandal.
Stefanie Keenan/Getty Images for Girlboss
Jane Buckingham, a Beverly Hills marketing executive who wrote a book on parenting, plotted to have a Harvard-educated accomplice take the ACT in place of her son. Now she's been sentenced to three weeks in prison. Prosecutors said Buckingham, the author of "The Modern Girl's Guide to Motherhood," was deeply engaged in the fraud. "I committed this crime for myself," she wrote in a letter to the court. "Not because I wanted my son to go to any particular school, but because I needed to make myself feel like a better mother." L.A. Times | Washington Post
12
The House Ethics Committee opened an investigation into Rep. Katie Hill, a Democrat from Santa Clarita, after allegations that she had an improper relationship with a congressional staffer were made public. Such a relationship would violate House rules. Hill denied the relationship in a letter to constituents on Wednesday, but she acknowledged a separate relationship "during the final tumultuous years of my abusive marriage" before entering Congress. "I know that even a consensual relationship with a subordinate is inappropriate," she wrote, "but I still allowed it to happen despite my better judgment." L.A. Times | Politico
13
"Human forms arrayed themselves with all the supposed attributes of demons, and perpetrated as foul deeds as they presumed to be capable of performing."
— N.Y. Times, Nov. 10, 1871
The first time Los Angeles made national headlines it was for one of the worst anti-Chinese atrocities ever committed on American soil. On this day in 1871, a white rancher was fatally shot in the chaos of a battle between rival Chinese tongs. The city's xenophobic passions were channeled into a murderous rampage as a mob dragged random people from their homes in the Chinese quarter and lynched them from improvised gallows. When it was over, about 17 males, including a boy, were dead. Here's a short film that uses uses graphic-novel storytelling to recount the history. KCET (~8 mins)
Subscribe
Wake up to must-read news from around the Golden State delivered to your inbox each morning.