Good morning. It's Monday, July 24.
Remote workers drive up rents in inland California.
Santa Barbara's oldest newspaper ceases publication.
And a record-breaking weekend at the movie box office.
---
Statewide
1.
After California's epic winter storms, water officials worried a blast of spring heat could turn the Sierra snowpack into floods that would overwhelm the state's dams and levees. But the melt was mercifully slow and steady. "The result: A return of water to California that has erased drought maps, poured into long-dry irrigation systems and raised expectations that, after months with water bursting from their gates, reservoirs will end the summer melt filled to capacity." Washington Post
---
2.
Putting solar panels on top of the state's 4,000 miles of water canals seems like a no-brainer. It would save an estimated 63 billion gallons of water from evaporating each year while providing 13 gigawatts of renewable power annually, about half of the new capacity the state needs to meet its decarbonization goals by the year 2030. But Rep. Jared Huffman, who has been talking up the technology for years, said people in the world of water infrastructure are still far more interested in building taller dams. "It's an ossified bastion of stodgy old engineers," he said. A.P.
---
3.
Communities in California's interior — including Bakersfield, Fresno, Visalia, and Santa Maria — have traditionally been refuges of affordability away from the soaring costs along the coast. But since the start of the pandemic, rents in those towns have exploded by roughly 40%. The surge has been linked to urban workers, many untethered by the shift to remote work, streaming out of Los Angeles and the Bay Area into towns where their salaries will go further. CalMatters ranked California towns by their post-pandemic rent increases.
---
Northern California
4.
Elon Musk announced over the weekend that Twitter would shed its name and logo and become "X." The mercurial leader has said that buying Twitter was "an accelerant to creating X," a term for what he has described as an "everything app" that could combine social media, instant messaging, and payment services. Marketing experts openly criticized the move, which they said squandered a valuable and universally recognizable brand. Twitter's value has plummeted since Musk acquired the San Francisco company last year. Washington Post | Wall Street Journal
---
5.
Last week, an 80-year-old ice cream vendor was robbed at gunpoint in Oakland in an attack that was caught on video. The vendor, Juan Carazas, said they took $120, money he intended to send to family in Peru. On Saturday, hundreds of people showed up from the neighborhood to buy out his entire supply. One man handed him $500, bringing Carazas to tears. "I'm speechless," he said. That's just the start. By late Sunday, two separate GoFundMe fundraisers for Carazas had raised a combined total of $42,900. Mercury News | NBC Bay Area
---
6.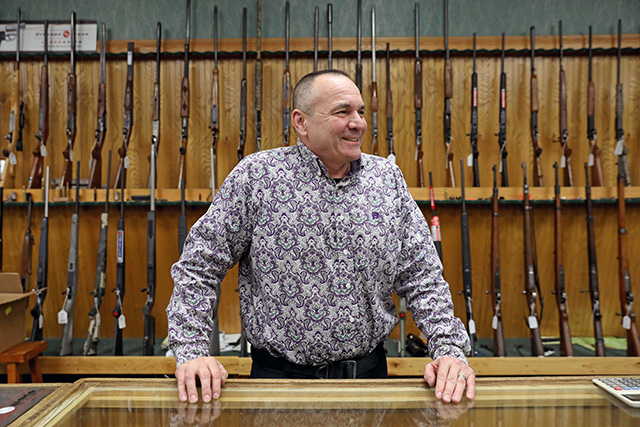 Years after former President Trump's 2020 loss at the ballot box, election conspiracy theories continue to captivate government officials in Shasta County. Last Thursday, Patrick Jones, the chair of the Board of Supervisors, hosted the first of a planned series of town halls that will air claims of voter fraud. It featured a presentation by Jeffrey O'Donnell, a Florida software engineer and ally of MyPillow Founder Mike Lindell, who has became a major figure in the "election integrity movement." He talked about "preloaded" votes, "abnormal patterns," and other "very interesting things that happened." Record Searchlight | A News Cafe
In an interview last year, O'Donnell said three of his sons think he's an "idiot." He added: "But I can live with that." Bloomberg
---
7.
"It looked like a scene out of Dukes of Hazard."
Surveillance cameras caught wild video of a car that plowed through the barrier of a dead-end street atop a hill and sailed down a public stairway in San Francisco on Saturday. The vehicle did a somersault, knocked down a tree, and landed on its roof, at which point at least five occupants crawled out of the windows and fled on foot. KTVU | Mission Local
---
Southern California
8.
The Santa Barbara News-Press, the city's longest running newspaper, declared bankruptcy on Friday and abruptly fired its entire staff. Founded in 1855, the News-Press won a Pulitzer for its editorial writing in 1962. A rocky period ensued after the newspaper's purchase in 2000 by Wendy McCaw, the wealthy ex-wife of a cell phone pioneer, who meddled in news decisions and sued those who crossed her. More recently, she wrote an editorial in 2020 likening California's stay-home order to Nazi oppression; the newspaper's editor exited shortly thereafter. Noozhawk | Santa Barbara Independent
---
9.
In an about-face, Temecula's school board on Friday approved a elementary school social-studies curriculum that mentioned gay rights activist Harvey Milk after Gov. Gavin Newsom threatened to impose a $1.5 million fine for failing to carry the teaching materials. The board had previously rejected the curriculum over what members called "sexualized" issues. During public comment, a teacher complained that morale had sunk to an all-time low: "I've taught for 26 years, grew up in a family of educators, grew up in the Bible Belt and never have seen this much contention and division that is of your own making. Saying that gay people fought for their rights is not sexualizing children." Ed Source | Press-Enterprise
---
10.
The dual opening of "Barbie" and "Oppenheimer" delivered the highest-grossing weekend box office since April 2019, giving the movie business a much-needed jolt. Greta Gerwig's "Barbie" led the way, pulling in $155 million in the U.S. and Canada, the biggest opening for a female director ever; "Oppenheimer" collected $81 million, an impressive figure for an R-rated film. Also notable, the L.A. Times reported: neither film is a superhero movie, sequel, or reboot —  "signaling a triumph for (relatively) original storytelling in an industry increasingly dependent on preexisting franchises." L.A. Times | N.Y. Times
---
11.
While driving home from his teaching job in Whittier on Feb. 10, Emmett Brock flipped off a sheriff's deputy on the side of the road. Seconds later, Brock saw a cruiser behind him, following his every turn. When he pulled into a 7-Eleven parking lot, the deputy approached, threw Brock to the ground, and punched him repeatedly in an encounter captured on surveillance video. Brock never hit back, but he was charged with three felonies. Only later did he learn the official pretext for the stop: The deputy was concerned about an air freshener hanging on the rearview mirror. L.A. Times | KABC
---
12.
Comic-Con returned to San Diego over the weekend as thousands of fans poured into town dressed as super-villains, "Star Wars" Siths, Austin Powers, Harley Quinn, Indiana Jones, Maleficent, Walter White, the Riddler, She-Hulk, and other fictional characters. Here are a couple galleries of the best costumes. 👉 Variety | S.D. Union-Tribune
---
Get your California Sun T-shirts, phone cases, hoodies, mugs, and hats!

---
Thanks for reading!
The California Sun is written by Mike McPhate, a former California correspondent for the New York Times.
Make a one-time contribution to the California Sun.
Give a subscription as a gift.
Get a California Sun mug, T-shirt, phone case, hat, or hoodie.
Forward this email to a friend.
Click here to stop delivery, and here to update your billing information. (Note: Unsubscribing here does not cancel payments. To do that click here.)

The California Sun, PO Box 6868, Los Osos, CA 93412
Subscribe
Wake up to must-read news from around the Golden State delivered to your inbox each morning.