Good morning. It's Tuesday, Jan. 24.
Massacre in Half Moon Bay leaves seven people dead.
Mark Arax dissects our tangled relationship with water.
And Kevin McCarthy's bond with Marjorie Taylor Greene.
---
California shootings
1.
"Our hearts are broken."
California's second mass shooting in less than 48 hours left seven people dead in Half Moon Bay on Monday. Law enforcement officials in the sleepy community just down the coast from San Francisco said they found four people shot dead at a mushroom farm around 2:30 p.m. and shortly later discovered three more people killed at another farm a few miles away. Authorities arrested a suspect, Chunli Zhao, 67, who was believed to be a farmworker at one of the locations. A county supervisor called him a "disgruntled worker."

The massacre had disturbing echoes of the shooting in Monterey Park on Saturday. In both cases, the suspects were elderly Asian men, whose age and ethnicity are rarities in mass shootings. Both were believed to have used semiautomatic handguns. Both targeted Chinese-Americans, officials said. And both were thought to have connections to at least some of their victims. Mercury News | S.F. Chronicle | NBC Bay Area
Zhao's arrest was captured on video. 👉 ABC7/YouTube
---
2.
The authorities on Monday did not specify a motive in the mass shooting at the Star Ballroom Dance Studio in Monterey Park. But investigators were focusing on whether Huu Can Tran, the 72-year-old suspect, was driven by a personal vendetta or jealousy over a relationship. Acquaintances of Tran told reporters that he had been a regular at the dance hall and often clashed with people there. Chester Chong, a local business leader, told the L.A. Times that Tran was looking for a woman who had been invited to a ballroom without him, which upset him. CNN | N.Y. Times | L.A. Times
---
3.
Other developments:
Video showed the moment Brandon Tsay, 26, wrestled a firearm away from Tran as he tried to enter a second dance facility. "I'm going to die. This is it," he recalled thinking. CNN | NBC News
The death toll in the Monterey Park shooting rose to 11 on Monday after another person succumbed to their wounds. The victims were all in their 50, 60s, and 70s, police said. Here's what's known about them so far. 👉 L.A. Times | BuzzFeed News
---
California storms
4.
When settlers thronged to Sacramento during the Gold Rush, they planted trees everywhere to block the sun during the intolerably hot summers. So the city was among the hardest hit when drenching rain and fierce winds sent thousands of trees crashing down across Northern California. "You go out into the parks … there are just trees all over," said Mayor Darrell Steinberg. "And so it's going to take some time to recover." Washington Post
---
5.
The veteran Fresno journalist Mark Arax wrote a fantastic column on California's tangled relationship with water.
"When we're in the midst of drought, we have no memory of flood. When we're in the midst of flood, we have no memory of drought. Amnesia is how we built agriculture across marsh and desert and houses in floodplains and canyons of fire." N.Y. Times
---
6.
Other odds and ends:
Forecasters are now predicting another possible surge of storms beginning in early February, though likely a milder sort than those of the past few weeks. Accuweather | @NWSSacramento
People are already getting excited about a potential explosion of color this spring. "It may or may not end up being a superbloom," said Abby Wines, a Death Valley park ranger. "But we're predicting a well-above average bloom." National Geographic
Flooded farmland, rising reservoirs, and shocking amounts of snow. Satellite imagery from before and after the atmospheric rivers tells a story of dramatic transformation. Washington Post
---
Statewide
7.
It's hard to believe in this era of bitter partisanship, but Speaker Kevin McCarthy and Los Angeles Mayor Karen Bass are genuine friends going back 20 years. The Bakersfield Republican and Los Angeles Democrat served together in Sacramento and later in Washington. When McCarthy won the speaker's gavel this month, Bass texted him congratulations and mentioned an upcoming trip to Washington. "I'm coming to collect," she told him. L.A. Times
---
8.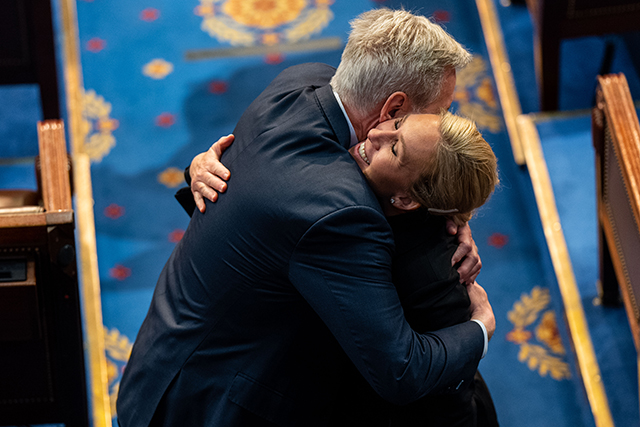 Another McCarthy pal: Marjorie Taylor Greene.
When the Georgia congresswoman arrived in Washington in 2021, many Republican leaders regarded her as beyond redemption. A former QAnon follower, she suggested that the Parkland school shooting was faked and promoted the idea that a California wildfire was ignited by a space laser linked to Jewish financiers. But since then, a powerful alliance has formed between McCarthy and Greene, who is playing an outsize role as a policy adviser to the new speaker. "I will never leave that woman," McCarthy recently told a friend. N.Y. Times
---
Northern California
9.
An analysis of three years of stop data found that San Francisco police regularly cite marijuana to justify needless searches of Black people in the city. In police stops that turned up no drugs between 2018 and 2021, officers used the word "smell" for searches of Black residents at 85 times the rate of white people. They used "marijuana" to search Black people at 58 times the rate of white people. S.F. Chronicle
---
10.
When Jake Phelps, the editor of Thrasher Magazine, died in 2019, his uncle said he died "suddenly and easy" while sitting in his sofa chair, playing guitar. The official cause of death remained obscured for four years until Monday: It was fentanyl. Skaters and family members are now talking about the use of drugs in the skate community and the shroud of secrecy that surrounds it. "It's a naturally dangerous lifestyle, and you do it in the streets," said Tony Vitello, owner of Thrasher Magazine. SF Standard
---
Southern California
11.
The AIDS Healthcare Foundation, a powerful Los Angeles nonprofit that crusades against bad landlords, promotes its work in full-page newspaper advertisements and near-daily social media posts. But it owns a building on Skid Row with an elevator that has chronically malfunctioned for more than five years, repeatedly trapping its elderly and infirm tenants. In December, 82-year-old Richard Dever spent six days in his tiny fifth-floor apartment, desperate for fresh air. "What bothers me is that I cannot get out like everybody else and enjoy the world," he said. L.A. Times
---
12.
Five months after putting the Angels up for sale, owner Arte Moreno announced Monday that he had changed his mind. In a statement, the 76-year-old owner said, in part, "it became clear that we have unfinished business." Many Angels fans are not happy. Under Moreno, the team has failed to win a postseason game since 2009. Some worry Moreno's reversal will now drive Shohei Ohtani, arguably the greatest two-way player in baseball history, to another team. Sports Illustrated | A.P.
---
Thanks for reading!
The California Sun is written by Mike McPhate, a former California correspondent for the New York Times.
Give the gift of the California Sun.
Get a California Sun mug, T-shirt, phone case, or hoodie.
Forward this email to a friend.
Click here to stop delivery, and here to update your billing information or cancel your support.

The California Sun, PO Box 6868, Los Osos, CA 93412
Subscribe
Wake up to must-read news from around the Golden State delivered to your inbox each morning.