Good morning. It's Wednesday, Oct. 25.
Writers Guild tries to explain silence on Hamas attack.
Pilot who disrupted flight said he had eaten psychedelics.
And Cruise robotaxis are banned from San Francisco roads.
---
Statewide
1.
California and more than 30 other states sued Meta on Tuesday, accusing the company of cultivating the addiction of children to its platforms for profit and plying them with harmful content. "With today's lawsuit, we are drawing the line," said state Attorney General Rob Bonta. The idea that social media companies shoulder responsibility for the damage of their products came to the fore in 2021 when former Facebook employee Frances Haugen leaked materials including an internal study that found Instagram worsened body-image issues for adolescent girls. Bloomberg | Wall Street Journal
---
2.
Just weeks after resolving a grueling strike, the Writers Guild of America has seen its solidarity fracture over the union's failure to condemn the Hamas attack on Israel. On Tuesday, the guild apologized for its silence, explaining, "It can be an imprecise science for a labor union to pick and choose where it weighs in on both domestic and world affairs." In an open letter, more than 300 writers noted that union took stands on the #MeToo movement and Black Lives Matter. "The crimes committed on October 7th were simple and cruel," the letter read. "If we cannot stand up to call it what it is — a monstrous act of barbarity — then we have lost the plot." L.A. Times
Chaos broke out at Richmond City Council late Tuesday when the mayor introduced a resolution that recognizes the suffering of Palestinians and accuses Israel of ethnic cleansing. It was approved, 5 to 1. S.F. Chronicle | Grandview Independent
---
3.
Time Out polled more than 12,000 urban dwellers for a ranking of the "40 coolest neighborhoods in the world" and Los Angeles' Arts District came in at No. 13. A former railway hub, the area has become known for its colorful old buildings and booming craft brewery and restaurant scene. Also included on the list, at No. 27, was San Francisco's Richmond District, typically known as among the city's sleepier areas. The publication called it a place of "natural beauty, rich culture, and incredible cuisine from every corner of the world." Time Out | SFGATE
---
4.
In the early 1900s, miners carved a more than a dozen dwellings in the caliche clay embankments near the subterranean Amargosa River northeast of Barstow. Dubbed Dublin Gulch, the homes included windows, wooden floors, shelving, and stovepipe chimneys. One multi-room cave dwelling across the river was so marvelously elaborate it earned the nickname the Castle in Clay. The spaces were said to remain inhabited long after the miners departed, by a succession of wanderers, hippies, and derelicts. They live on today as one of California's most unusual ghost towns. Cali49 | Outdoor Project | Atlas Obscura
---
Northern California
5.
The off-duty pilot accused of trying to cut the engines on a flight bound for San Francisco on Sunday told investigators he hadn't slept in 40 hours and had consumed psychedelic mushrooms about 48 hours before boarding, court documents said. Joseph Emerson, 44, of Pleasant Hill, also said he had been depressed and that a friend had recently died. "I pulled both emergency shut off handles because I thought I was dreaming and I just wanna wake up," he told police. Emerson was arraigned Tuesday on 83 counts of attempted murder. N.Y. Times | Mercury News
---
6.
Thousands of Fresno teachers voted overwhelmingly to go on strike if negotiators fail to reach a deal on a contract by next week, labor leaders announced Tuesday. "Our teachers are tired," said Manuel Bonilla, president of the Fresno Teachers Association. "Tired of the empty promises, the nonsense slogans, the highly paid administrators paying lip service to solving real issues on our campuses." The school board president, Veva Islas, said he is not opposed to higher wages: "The question is how much can we afford?" Fresnoland | EdSource
---
7.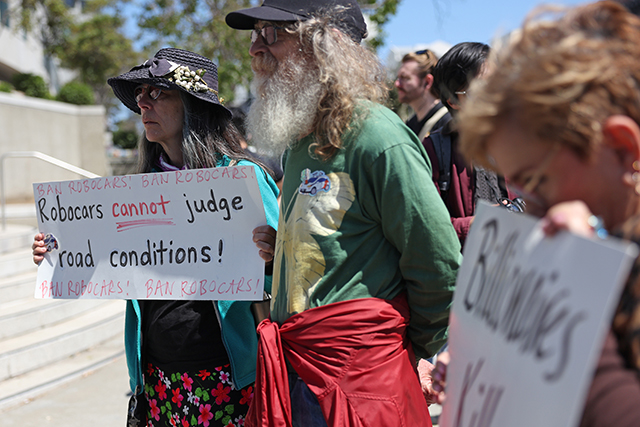 California ordered Cruise, a General Motors subsidiary, to remove its driverless cars from the streets of San Francisco after determining that they pose an unacceptable danger and that company officials misrepresented the details of an accident. It was just two months ago that state regulators allowed the service to expand over howls of protest from police and fire officials. A series of traffic mishaps followed, including one this month in which a Cruise car dragged a pedestrian 20 feet after a crash. Bloomberg | Wall Street Journal
---
8.
"We cracked the IronKey. Now we have to crack Stefan."
Stefan Thomas, a programmer living in San Francisco, infamously forgot the password to his thumb drive containing the keys to 7,002 bitcoins, worth close to $235 million. Now a hacking startup in Seattle that has been working on the problem for eight months has developed a password-cracking technique to access the device. The only problem: Thomas has declined their help because he made a "handshake deal" with two other cracking teams who have shown no sign of pulling off the decryption trick. WIRED
---

Give something they'll open every day.
Give the gift of the California Sun.
---
9.
A former major league baseball player, Dan Serafini, was arrested last week in the 2021 execution-style shooting of a couple in Lake Tahoe. But Adrienne Spohr, a daughter of the couple, had already quietly sued Serafini and her sister, Erin Spohr, who is Serafini's wife, earlier this year, accusing them of the attack. One purpose of the lawsuit appears to be to keep Serafini and Erin Spohr from collecting any inheritance money. S.F. Chronicle
---
10.
Every day, a large number of pedestrians pass through San Francisco's United Nations Plaza, a central access point to government and cultural institutions in the heart of the city. Few know that hundreds of bodies are buried beneath their feet. Around the time of the Gold Rush, an enormous cemetery at the site was filled with between 7,000 and 9,000 bodies. In 1868, the city earmarked the insufficient sum of $10,000 to disinter the dead and rebury them farther from town. When the money ran out, they quietly sealed the remaining graves under the growing city. Atlas Obscura told the story of San Francisco's secret graves.
---
Southern California
11.
During a tense Malibu City Council meeting Monday night, speakers expressed sadness and rage over the circumstances that led to four Pepperdine seniors being killed by a driver along a stretch of Pacific Coast Highway where speeding is a chronic problem. The city noted that Caltrans had counted more than 4,000 collisions along PCH in Malibu, with the primary causes being speeding and improper turns. An L.A. County Sheriff's sergeant said that at 1:23 a.m. on Sunday, an 18-year-old driver without a license was arrested for driving at a speed of 109 mph. L.A. Times
---
12.
In the most 1990s wedding in recent memory, the daughter of Courtney Love and the late Kurt Cobain married the son of San Diego skateboarding legend Tony Hawk on Oct. 7 in a Los Angeles ceremony officiated by R.E.M. frontman Michael Stipe, according to marriage documents obtained by TMZ. Frances Bean Cobain, 31, owns rights to her father's image and likeness and was an executive producer of the 2015 HBO documentary about him, "Montage of Heck." Riley Hawk, 30, is also a professional skateboarder. TMZ | L.A. Times
---
Get your California Sun T-shirts, phone cases, hoodies, mugs, and hats!

---
Thanks for reading!
The California Sun is written by Mike McPhate, a former California correspondent for the New York Times.
Make a one-time contribution to the California Sun.
Give a subscription as a gift.
Get a California Sun mug, T-shirt, phone case, hat, or hoodie.
Forward this email to a friend.
Click here to stop delivery, and here to update your billing information. To change your email address please email me: mike@californiasun.co. (Note: Unsubscribing here does not cancel payments. To do that click here.)

The California Sun, PO Box 6868, Los Osos, CA 93412
Subscribe
Wake up to must-read news from around the Golden State delivered to your inbox each morning.