Open in browser | Forward to a friend
Good morning. It's Wednesday, Nov. 8.
Governor's approval rating sinks to an all-time low.
World War II-era hangar goes up in flames in Tustin.
And the "tenant from hell" finally leaves Los Angeles Airbnb.
---
Israel-Hamas war
1.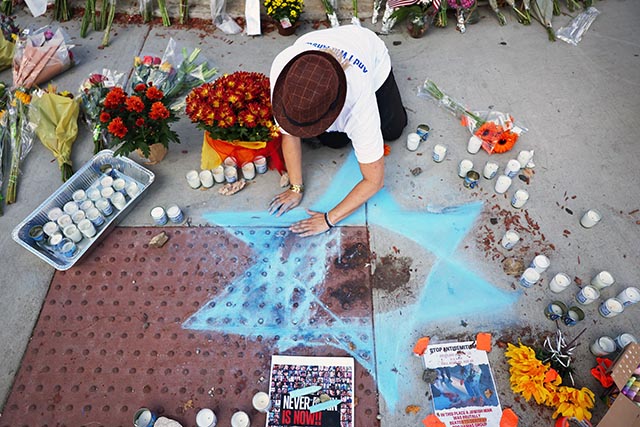 A pro-Palestinian demonstrator suspected in the death of a 69-year-old Jewish man during a Sunday protest in Thousands Oaks had called 911 and stayed on the scene, officials said on Tuesday. Ventura County Sheriff Jim Fryhoff said investigators searched the home of the suspect, described only as a Moorpark man in his 50s, but had not yet determined whether a crime occurred. "What exactly transpired prior to [Paul] Kessler falling backward isn't crystal clear right now," he said. Still, he did not rule out the possibility that it was a hate crime. Ventura County Star | NBC News
---
2.
Other developments:
The Oakland teachers union passed a resolution Monday declaring support for "Palestinian liberation" and pledging to facilitate lessons about the cause in the classroom. Some teachers and parents reacted with outrage. "Jewish families are going to pull out of this district," one teacher said. Jewish News of Northern California | KTVU
Members of the state Legislature's Jewish caucus sent a letter to UC and Cal State leaders criticizing what it portrayed as their complacency amid rising antisemitism. "We have heard from Jews across California who have been targeted by hate on our campuses," they wrote. CBS News | @Scott_Wiener
The Israeli actress Gal Gadot is organizing a screening of video from the Oct. 7 Hamas attack for an audience of entertainment figures in Los Angeles, reports said. Journalists who have viewed the footage have described it as "pure, predatory sadism" and worse. i24 News | Forward
---
Statewide
3.
Gov. Gavin Newsom's approval rating has hit an all-time low as he has chased a spot on the national stage, a new poll showed. Among California voters, just 44% approved of his performance in October, down from 55% in February, according to the survey by the UC Berkeley Institute of Governmental Studies. His disapproval rating surged to 49% from 39%. While Newsom denies harboring presidential aspirations, his behavior has fed speculation that he's running a shadow campaign. He is scheduled to debate Florida Gov. Ron DeSantis on Nov. 30. L.A. Times | Sacramento Bee
Newsom brought a former photojournalist with White House experience to document his trip to China. Politico
---
4.
As few as one in 1,000 calls to California's unemployment phone lines were answered early in the pandemic, according to state audits. On April 20, 2020, Shane Balogh made nine phone calls seeking $11,700 in unemployment benefits he was entitled to after being laid off from his traveling sales job. Over the next two months, the 28-year-old called another 46 times. Then on June 27, he killed himself. Two weeks later, his payments were approved. Reporter Lauren Helper wrote about the human tragedy of California's disastrous unemployment system. CalMatters
---
Northern California
5.
Two San Francisco supervisors are flying to Japan on a taxpayer-funded junket to learn about math instruction. That's peculiar for several reasons, wrote reporter Josh Koehn:
"San Francisco supervisors have no role in deciding how math is taught in the city's public schools.
The mayor just announced last month that the city could be facing a half-billion dollar deficit, and trips to Japan wouldn't seem to rate on the priority scale.
Algebra hasn't even been taught to San Francisco's eighth graders in almost a decade." SF Standard
---
6.
San Francisco hired Van Zeng as a building inspector in March 2020. Exactly a month later, he inspected his own home. It wouldn't be his last violation of the department's code of conduct, which requires workers to recuse themselves from inspections in which they have an interest, a review of public records found. Over two years, Zeng conducted or signed off on another 19 inspections for three different properties owned by his mother and other investors, as well as on two permits sought by his father. SF Standard
---
7.
On July 4, 2020, protesters in Sacramento's Capitol Park tore down a statue of Junípero Serra, the Spanish priest who helped colonize California, angering the state's Catholic leaders. On Tuesday, an 8-foot-tall Native American statue was unveiled in its place. Jesus Tarango, a local tribal leader, said the monument signals a new era at the Capitol — "one where we stop uplifting a false narrative and start honoring the original stewards of this land." A.P. | Sacramento Bee
---
8.
Sacramento's Capitol Park includes memorials to war veterans, fallen firefighters, peace officers killed in the line of duty — and a portly cat with a limp and an apparent disdain for humans. For 13 years, a feral cat known as Capitol Kitty patrolled the Capitol grounds, eating food put out by well-wishers while indulging her few hobbies: contemplating squirrels, napping, and eating. "Not real generous with affection," Ernie Wright, who ran a shoeshine stand in the Capitol, once told the L.A. Times. Yet she was so beloved that after her death in 2004 a memorial plaque complete with paw prints was placed near a favorite resting spot. Roadside America | Findagrave.com
---

Give something they'll open every day.
Give the gift of the California Sun.
---
Southern California
9.
A fire engulfed a massive World War II-era hangar at the former Marine Corps Air Station in Tustin early Tuesday, destroying a symbol of the city's military history that has dominated the city's skyline for more than 80 years. Deeming the 17-story structure too dangerous to approach, firefighters waited for it to collapse before quenching the flames. The cause of the fire remained unclear. "It's a sad day for the city of Tustin," Fire Chief Brian Fennessy said. L.A. Times | O.C. Register
See a time-lapse video of the inferno. 👉 Reddit
---
10.
A shrubby tree known as a Palmer's oak in the Jurupa Hills of Riverside County began its life roughly 13,000 years ago, surviving by perpetually cloning itself. "If it had eyes, it would have gazed out at saber-toothed tigers and mastodons," the botanist Norman Ellsrand said. But developers have now proposed putting a tract home development next to the tree; opponents say it could finally kill the legendary survivor. L.A. Times
---
11.
Four current and former Los Angeles County Sheriff's Department employees died from suicide in a span of 24 hours that began Monday, officials said. There is no indication they were connected. The deaths prompted Sheriff Robert Luna to urge deputies to check on the well-being of their colleagues. "We are urgently exploring avenues to reduce work stress factors to support our employees' work and personal lives," he added. L.A. Times | The Signal
---
12.
The "tenant from hell" who refused to leave a guesthouse Airbnb rental in Los Angeles for more than a year was escorted from the property by police on Friday — and the homeowner immediately had the locks changed. Elizabeth Hirschhorn, a Harvard graduate who was previously accused of squatting in a home in Oakland, became a subject of national fascination and scorn after the L.A. Times chronicled her dubious legal bid to live rent-free in someone else's home. Hirschhorn's lawyer suggested she may not be done fighting. Daily Mail | L.A. Times
---
Get your California Sun T-shirts, phone cases, hoodies, mugs, and hats!

---
Thanks for reading!
The California Sun is written by Mike McPhate, a former California correspondent for the New York Times.
Make a one-time contribution to the California Sun.
Give a subscription as a gift.
Get a California Sun mug, T-shirt, phone case, hat, or hoodie.
Forward this email to a friend.
Click here to stop delivery, and here to update your billing information. To change your email address please email me: mike@californiasun.co. (Note: Unsubscribing here does not cancel payments. To do that click here.)

The California Sun, PO Box 6868, Los Osos, CA 93412
Subscribe
Wake up to must-read news from around the Golden State delivered to your inbox each morning.