Good morning. It's Friday, Jan. 6.
Ferocious ocean swells waves batter California coast.
Forecasters warn of storms for weeks to come.
And the creeping influence of L.A. in New York.
---
California storm
1.
The Santa Cruz coast faced severe storm damage Thursday as a relentless tidal surge slammed into beach towns along Monterey Bay. In Capitola, Soquel Creek breached its banks, pouring into homes and carrying unmoored kayaks and pieces of deck to the Pacific. Monster waves mangled the beach resort's historic pier and another in neighboring Aptos, the dock for a World War I-era concrete ship, the S.S. Palo Alto. Santa Cruz Sentinel | Lookout Santa Cruz | Mercury News
See dramatic video:
---
2.
"It's not like this is done."
As the skies cleared Thursday, meteorologists cautioned that the rains aren't ending anytime soon. The weather pattern steering storms toward California appeared locked in for weeks to come, promising significant precipitation every two or three days. Emergency officials were closely monitoring at least a dozen rivers, including segments of the Sacramento, Cosumnes, and Russian rivers, all of which were poised to rise above flood stage by early next week. Bloomberg | Press Democrat | Mercury News
---
3.
Other storm developments:
"He was the joy of our family." A couple grieved the loss of their 2-year-old son, who died when a redwood fell on their home in Sonoma County. Press Democrat | S.F. Chronicle
Experts say California needs to give rivers more room to overflow, but the obstacles are enormous in a state where land values are so high. A thoughtful analysis. 👉 N.Y. Times
The Weather Channel: 35 photos of the California storm.
---
Statewide
4.
Rep. Kevin McCarthy's run of failed speakership bids now stands at 11. After a long and frustrating third day, the speaker's chair of the U.S. House remained empty as McCarthy lost again and again, cementing the most protracted such contest since 1859. The California Republican has offered holdouts a major concession: allowing a single lawmaker to force a snap vote at any time to oust the speaker, a rule that would put him at the mercy of the hard-right wing at all times. N.Y. Times | Washington Post
---
5.
As of Jan. 1, companies in California are required to provide salary ranges in job listings under a new pay transparency law. But critics say some companies appear to have found a way to skirt the law: by providing ludicrously wide ranges. Netflix posted a job that pays anywhere from $50,000 to $600,000; a listing for a job at Tesla in Fremont offers from $83,200 to $417,600. Washington Post
---
6.
On this week's California Sun Podcast, host Jeff Schechtman chats with Erica Hellerstein, a journalist who wrote a moving piece in Coda Story about the grief of living in a state on fire. She recalled how, growing up in the Bay Area, she always looked forward to the warmth of September and October that eluded the region during the summer. But in recent years, she said, "I started to become terrified of that time of year."
---
Northern California
7.
Elon Musk's cost-cutting efforts at Twitter are growing increasingly extreme. Janitorial and security services have been cut. Employee benefits for commuting, family planning, and meals have all been eliminated. Lawsuits are piling up over unpaid bills, including rent at one of its San Francisco offices. And two months after nearly 1,000 California employees were laid off, they are still awaiting details of their severance packages. Bloomberg | N.Y. Times | @ZoeSchiffer
---
8.
One might expect that residents of the Painted Ladies, the iconic Victorians of San Francisco's Alamo Square, face a gauntlet of unwanted tourist attention. But a reporter who visited the Blue Painted Lady found the opposite: "The home, with its backyard full of wisteria and hummingbirds, is a calm oasis, a respite from city life where you hear nothing at all." SF Standard
---
Southern California
9.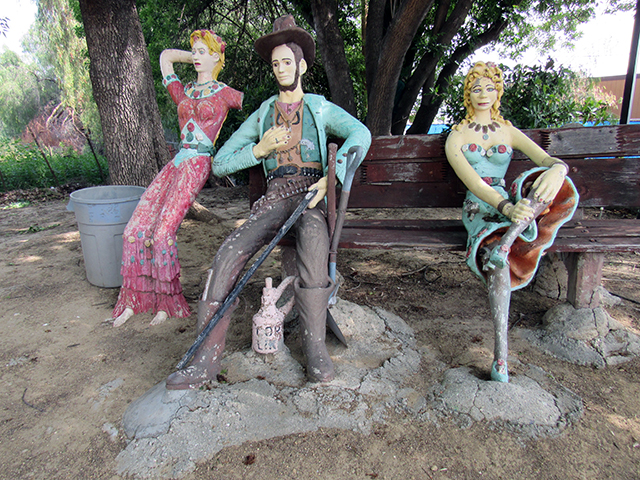 "The statues are not representative of our values."
Not long after the death of the amateur sculptor John Ehn in 1981, California designated his work as a historic landmark, calling it an example of "remarkable 20th century folk art." Ehn's collection of sculptures depicting Old West men and women, known as "Old Trapper's Lodge," found a safe haven on the grounds of a community college in Woodland Hills. But after more than 30 years, the college has ordered the figures removed over what it says are harmful stereotypes. Atlas Obscura
---
10.
The reporter Michael M. Grynbaum made a convincing case that New York is turning into Los Angeles:
"New Yorkers drive more and ride the subway less. They're eating earlier, dressing sloppier and doing ketamine. The mayor parties at a Kardashian hangout, and there's an organic mattress store on Fifth Avenue.
Is this the Los Ang-ularity?" N.Y. Times
---
11.
Two men accidentally set themselves on fire after dumping accelerant on an immigration services building in Bakersfield and setting it ablaze early Monday. The panicked scene was captured in dramatic surveillance video, showing the men screaming as they ran into the night. The flames were quickly suppressed by firefighters, and two suspects were reportedly taken into custody. Vice
---
In case you missed it
12.
Five items that got big views over the past couple weeks:
---
Correction
An earlier version of this newsletter misspelled a Bay Area journalist's name. She is Erica Hellerstein, not Erica Hellerman.
---
Thanks for reading!
The California Sun is written by Mike McPhate, a former California correspondent for the New York Times.
Make a one-time contribution to the California Sun.
Give the gift of the Sun.
Forward this email to a friend.
Click here to stop delivery, and here to update your billing information or cancel your support.

The California Sun, PO Box 6868, Los Osos, CA 93412
Subscribe
Wake up to must-read news from around the Golden State delivered to your inbox each morning.