Good morning. It's Friday, April 5.
| | |
| --- | --- |
| • | Drought is expected to wipe out the Sierra's Lyell Glacier. |
| | |
| --- | --- |
| • | MAGA hats set off ugly confrontations in the Bay Area. |
| | |
| --- | --- |
| • | And a tour of some of California's best campgrounds. |
Statewide
1
A massive smoke plume rose above the Woolsey fire in Southern California last November.
Emergency preparedness agencies failed to adequately warn communities in Mendocino, Santa Barbara, and Butte counties about approaching wildfires. Scores of people died. Now, under heightened pressure, the state's emergency services agency is issuing new protocols for officials across California who until now adhered to divergent practices. One crucial guideline: "Err on the side of protecting the public."
2
Nicholas Albrecht for The California Sunday Magazine
In 1871, John Muir figured out that an ice field in the Sierra Nevada was in fact a glacier, a remnant of the ancient engine behind the creation of Yosemite. At its current melt rate, geologists expect Lyell Glacier to disappear in four or five more years of drought. In reality, it's no longer a glacier at all; it's already dead.
3
People are raving about a column by Caitlin Flanagan in The Atlantic on the college admissions scandal. She writes, "The collapse of manufacturing jobs has been to poor whites what the elite college-admissions crunch has been to wealthy ones: a smaller and smaller slice of pie for people who were used to having the fattest piece of all."
4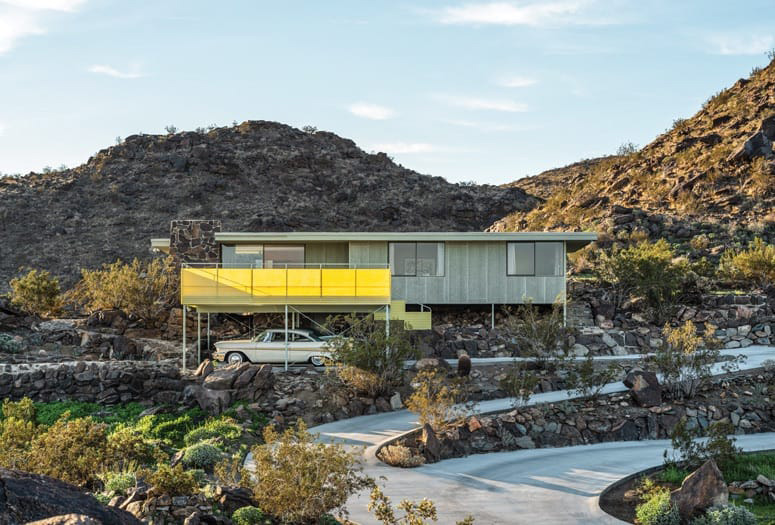 This Albert Frey home was featured during Palms Springs' Modernism Week.
Some eye-catching properties for sale or rent:
| | |
| --- | --- |
| • | This well-preserved home in Palm Springs was designed in 1955 by Albert Frey, founding father of desert modernism. Painted the color of desert flowers, it blends into an 8-acre hillside. Asking: $2.5 million. Curbed | Desert Sun |
| | |
| --- | --- |
| • | A landmarked Spanish Colonial church in Oakland was once grand, then abandoned, and has now been painstakingly transformed into apartments. Rents range from $1,800 to $2,050. SFGate.com | Curbed San Francisco |
| | |
| --- | --- |
| • | A barrel-making facility in Napa Valley was refurbished into a resort-like estate, with a pool, guest house, and fruit orchards. Another major selling point: 20-foot ceilings. Asking price is $5.2 million. Curbed San Francisco | Compass |
5
Dr. Tom Hoffman discussed the Mars mission in Pasadena last year.
Bill Ingalls/NASA via Getty Images
On this week's California Sun Podcast, host Jeff Schechtman chats with Dr. Tom Hoffman, project director of the Mars InSight mission at NASA's Jet Propulsion Laboratory. A native Californian, Hoffman explains how the Pasadena lab became ground zero in the quest for interplanetary travel.
Northern California
6
Even as other law enforcement agencies have released disciplinary files under a new transparency law, Contra Costa County Sheriff David Livingston is refusing requests for documents on the grounds that it would be "a monumental task." A state lawmaker said the sheriff's claim was "simply a defiance of state law." East Bay Times
Livingston has distinguished company: Attorney General Xavier Becerra said he won't release old misconduct files despite a recent appeals court ruling that they are public documents. A.P.
7
Members of the Hart family were found dead along this stretch of the Mendocino coast.
Alameda County Sheriff's Office via A.P.
A special coroner's jury ruled that the deaths of two women and their six adopted children resulted from a deliberate act when the SUV they were traveling in sailed off a Mendocino County cliff last year. Jurors concluded that one woman, Sarah Hart, had searched death by drowning online and her wife, Jennifer Hart, had stepped on the gas. "It is my belief that both Jennifer and Sarah succumbed to a lot of pressure," a law enforcement official said.
8
Splattered blood and a MAGA hat were left at the scene of a sword attack in San Francisco.
Lowlights from a week of incivility in the Bay Area:
| | |
| --- | --- |
| • | A man wearing a MAGA hat drew a sword and cut another man who had swatted the cap off of his head. He was arrested and booked on suspicion of attempted murder. Hoodline | S.F. Chronicle |
| | |
| --- | --- |
| • | A Palo Alto woman boasted online about confronting a man in a MAGA hat at a Starbucks. "He will never forget me and will think seriously about wearing that hat in my town ever again," she wrote. She was fired from her accounting job. Daily Post | Mercury News |
9
A California condor soared over a wildlife refuge in Ventura County in 2014.
Mel Melcon/L.A. Times via Getty Images
California condors, the largest soaring birds in North America, once roamed all over the West. By the 1980s, there were only 22 left on the planet. After an aggressive captive breeding program, that number has grown to about 463, with populations reintroduced to the wild in Central and Southern California. Now a roadmap is in place to extend the range north. They could be soaring along the North Coast as soon as next year. Eureka Times-Standard
Separately, webcams have been installed atop a U.C. Berkeley tower where a pair of peregrine falcons are nesting. Berkeleyside
Southern California
10
Crews worked on a border barrier in Otay Mesa on Wednesday.
An analysis by the L.A. Times and ProPublica found that the Border Patrol allows its agents wide latitude to engage in high-speed chases to catch people entering the country illegally — with often deadly results. Over the last four years, agents conducted more than 500 pursuits near the border, with a third ending in crashes. At least 22 people died and 250 were injured.
11
President Trump is due in Calexico on Friday to tour a new section of border fencing. Locally elected officials — all Democrats — say they're tired of hearing Trump portray their region as a crisis zone. Rep. Juan Vargas said his constituents were preoccupied with sewage flowing across the border. "Our border communities do not want or need a wall," he said. "They are pleading for urgent assistance for the New River as a matter of public health and safety."
12
Nipsey Hussle interacted with kids during a basketball court refurbishment event in Los Angeles last fall.
Jerritt Clark/Getty Images for PUMA
Nipsey Hussle trafficked in the imagery of fashion and flashy cars, but he also left an indelible mark on the Crenshaw district of South Los Angeles where was raised. He championed long-term investment and celebrated the neighborhood in his lyrics. Here's a tour through Hussle's Slauson Avenue, along with selections of his music. L.A. Times
Eric Holder, a 29-year-old aspiring rapper, was charged with fatally shooting Hussle. He's being represented by Chris Darden, best known as one of the prosecutors during the O.J. Simpson trial. L.A. Times | Newsweek
13
A Costa Mesa woman on safari in Uganda was abducted along with her driver by gunmen seeking $500,000 in ransom. Law enforcement officials said the kidnappers grabbed Kimberly Sue Endicott, an aesthetician, and the driver while on an evening game drive and disappeared into the bush.
14
Photo by George Rose/Getty Images
Now's the time to set your summer camping plans. Pictured above are the bluffs in Jalama Beach County Park on the Central Coast. The remoteness of the park has made it a favorite among hard-core beach campers. Bonus perk: A grill at the park makes a burger so delectable that its name, the Jalama burger, is trademarked. The L.A. Times included Jalama in its list of "8 great campgrounds in California."
In case you missed it
15
New life is moving into a decaying town on the Salton Sea.
Here are five blurbs that got big views over the past week:
| | |
| --- | --- |
| • | Artists are being drawn to the cheap prices and surreal setting of the Salton Sea. The signature event of the year is the Bombay Beach Biennale, a festival of art, music, and ideas. California Sun |
| | |
| --- | --- |
| • | Details emerged in the falling death of an Israeli teenager at Yosemite. Tomer Frankfurter, 18, asked a young woman to take his picture as he dangled from a ledge. "I thought he was joking," a witness said. Mercury News |
| | |
| --- | --- |
| • | The Marin Headlands, La Quinta Cove, and Whiting Ranch Wilderness Park. Here's a list of the 42 most glorious hikes across the West. Sunset magazine |
| | |
| --- | --- |
| • | For years, critics have blamed Proposition 13, the 1978 property tax revolt, for robbing governments and schools of billions of dollars. Now a measure to revise the law has qualified for the November 2020 ballot. L.A. Times |
| | |
| --- | --- |
| • | A new book, "Bill Owens: Altamont 1969," presents unpublished photos from one of the darkest days in rock history. At the Altamont Speedway Free Festival, a black teenager was killed by Hells Angels within 20 feet of the stage. New Yorker | Eye of Photography |
Subscribe
Wake up to must-read news from around the Golden State delivered to your inbox each morning.