The 5 best places to bask in California's fall colors
New England has the architecture, but California has the landscapes. That, according to the fall color connoisseur John Poimiroo, makes the Golden State America's premier autumn destination. As evidence, he cited a photograph of the Eastern Sierra's Bishop Creek Canyon aflame with color in a past September, shown above.
"I'll take any photograph you can show me in New England, put this next to it, show it to a hundred people, and say, 'Which one takes your breath away?'" said Poimiroo, who runs the website California Fall Color. "This one takes your breath away."
California has among the longest and most diverse seasons for fall foliage.
The show usually begins mid-September in the upper reaches of the Sierra Nevada, then parades gradually down the slopes, concluding in the valleys in December. We asked Poimiroo to share his five favorite destinations to see California's colors.
1.
The Eastern Sierra canyon has three forks — north, middle, and south — dotted with alpine lakes and dense with aspen, cottonwood, and willow trees that erupt in brilliant autumn hues. "It's a spectacular area," Poimiroo said.
It's also convenient, a few hours north of Los Angeles. "The great thing about California," he said, "is most of the color you can drive right to." Now's the time. The colors are peaking over the next few weeks.
2.
This scenic drive winds for 15 miles past a necklace of glacial lakes. Aspens along the shorelines and lower slopes turn yellow and gold and create a dazzling contrast with the turquoise water and granite Sierra.
"It makes for a wonderful drive," Poimiroo said. "You have this beautiful opalescent lake and then you get yellow aspen going up to orange, going to flame red up a thousand feet above you."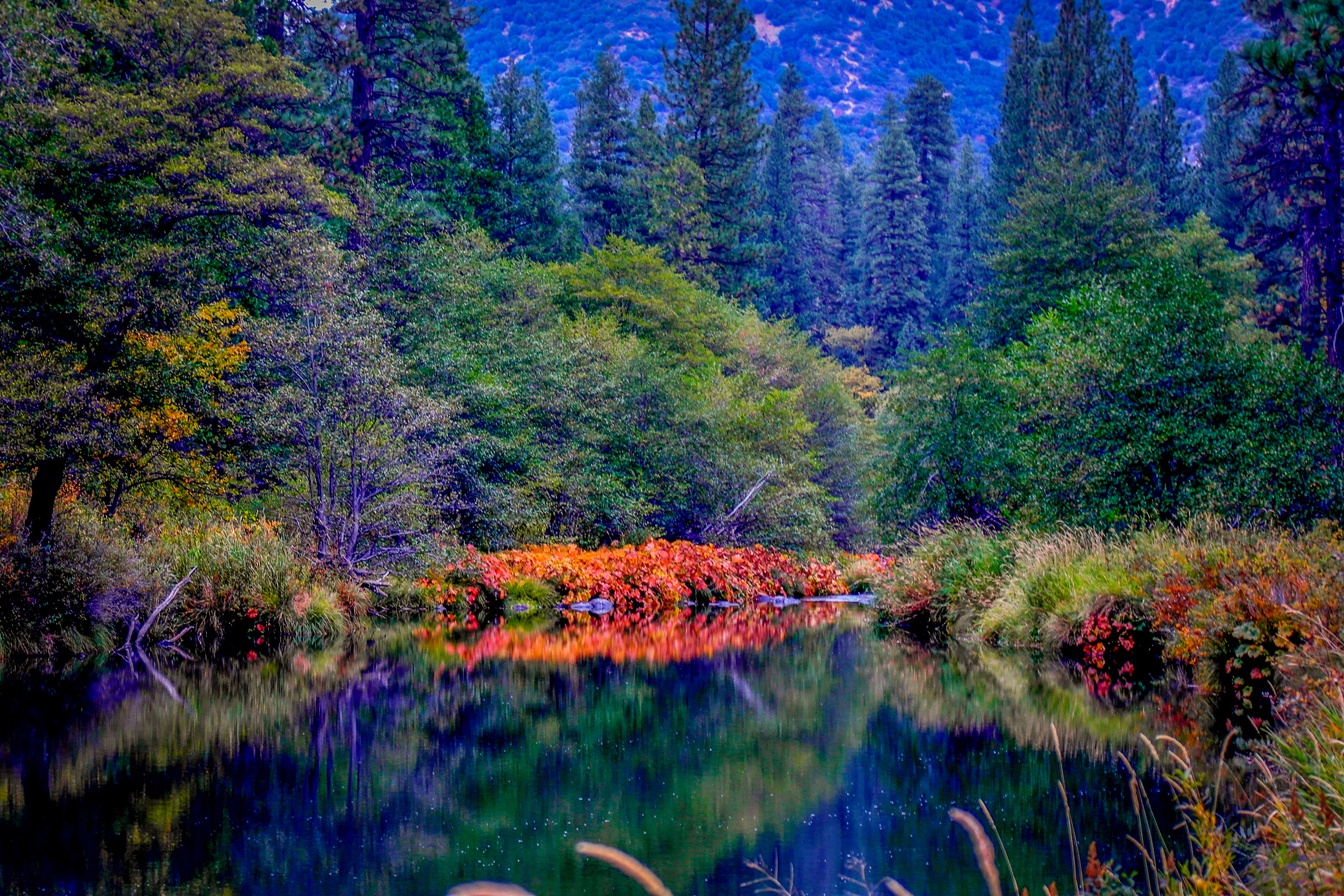 3.
Plumas County — late September through early November
This region in the Northern Sierra has an East Coast character, said Poimiroo. "You have white-steepled churches and old barns and old, old towns from the 1850s, '60s, and '70s that were often built by New Englanders."
The landscape is lush with colorful oaks, dogwoods, and maples. But the showstopper, according to Poimiroo, is the Indian rhubarb that thrives along mountain streams and lights up in oranges and reds.
4.
Vineyard country, all over California — mid- to late-October
Rolling fields of grape vines in Napa, Sonoma, and other parts of California turn to palettes of copper and ruby red in the fall.
"Very few areas of the country have these vast vineyards," Poimiroo said. "And many of those grapes that were planted came from France. They came from areas where there were harsh winters. So they change their color dramatically."
5.
Urban forests, North Coast, Mount Whitney
For his final recommendation, "choosing between his children" was too much for Poimiroo.
He mentioned places like Sacramento — with a dense canopy that includes colorful non-native trees like the ginkgo and Chinese pistache — the redwood forests of the North Coast — with radiant maples and poison oak — and another destination that rewards those willing to earn it.
A Mount Whitney trail west of Lone Pine leads to a fall scene that Poimiroo described as "a waterfall of a thousand feet of orange and yellow and red and limes that just drapes down this mountain."
"Truly, truly spectacular," he said.
For the latest updates on California's fall colors, check out Poimiroo's website, which collects reports from a small army of volunteers.
This article is from the California Sun, a newsletter that delivers California's most compelling news to your inbox each morning — for free. Sign up here.

Get your daily dose of the Golden State.